Two Scholarship Recipients to be Recognized at 2021 AMUG Conference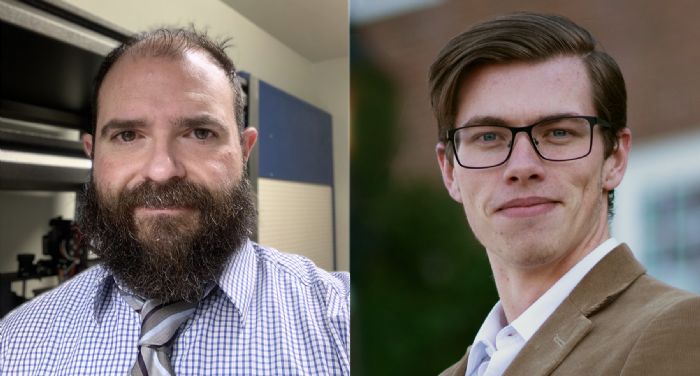 The Additive Manufacturing Users Group (AMUG) announced the two recipients of its 2021 scholarships, to be recognized at the 2021 AMUG Conference, May 2-6 in Orlando, FL. John Sorvillo, director for Westwood Prep Academy at New Beginnings, Youngstown, OH, has been awarded the Randy Stevens Scholarship. Sean Dobson, pursuing a Ph.D. in material science at the University of Cincinnati, Cincinnati, OH, has been awarded the Guy E. Bourdeau Scholarship.
As scholarship recipients, Sorvillo and Dobson will attend the AMUG Conference, and also take the stage to present their work on Tuesday, May 4.
The scholarships honor and recognize students and teachers that demonstrate a passion for additive manufacturing (AM). The 2021 recipients demonstrate the passion in two ways: a dedication to advancing the technology and a commitment to advancing individuals through the technology.
Sorvillo, a licensed elementary school teacher, has been in educational administration for nearly a decade. At the Westwood Preparatory Academy, the students are in residential care, most under court custody with no familial provisions. As a director at the academy, Sorvillo builds programs, teaches and counsels with the goal of inspiring hope through education.
"We try to leverage that education into their therapy, bringing us back to inspiring hope in them," he explains. "We set them up to succeed in our classrooms. The more they achieve, the more they believe in themselves."
Initially, the academy had one 3D printer, but struggled to incorporate it into instructional lessons. With Sorvillo's efforts, it now boasts four printers that function as conduits for experiencing life skills, such as teamwork; acquiring technology skills, such as CAD design; and gaining 'soft skills' needed to function in society. Sorvillo has extended classroom education through partnerships, collaborations and grants where the students' actions benefit others and themselves.
As an undergraduate student in Mechanical Engineering at the University of Louisville, Louisville, KY, Dobson's introduction to AM occurred during an internship in Gulfstream Aerospace's 3D Printing Laboratory, and he also has discovered an affinity for sharing that passion with others through training, tours and collaborations. The interest in AM discovered during the internship led Dobson to become an undergraduate research assistant in the University of Louisville's Rapid Prototyping Center (RPC). There he found great interest in metal AM, and followed this path in working on RPC projects for organizations such as NASA and the U.S. Navy.
Dobson's senior project—creating an affordable, modular desktop machine for fused filament fabrication, CNC milling, laser cutting and injection molding—spilled outside of the lab when he and two colleagues founded ModMan Technology. After receiving his bachelor's degree, Dobson earned a master's degree in Mechanical Engineering from the University of Louisville. During that pursuit, he continued his research for the U.S. Navy's project as a graduate research assistant.
Currently working toward a Ph.D. in Material Science at the University of Cincinnati, Dobson also works for Vertex Manufacturing as an additive and materials engineer.
AMUGexpo—For Users, By Users
To experience the latest and greatest in additive manufacturing (AM) technology from 90-plus exhibitors, be sure to attend the conference's AMUGexpo, slated for Sunday, May 2, from 4 to 10 p.m. with dinner included, and Monday, May 3, from 10 a.m. to 1:30 p.m. AMUGexpo wraps up on Monday evening from 6 to 10 p.m. with open booths as well as the AMUGexpo Technical Competition and dinner. Note that Diamond and Platinum booths will remain open throughout the AMUG 2021 Conference week. AMUGexpo, unlike a traditional tradeshow, provides a unique for users, by users experience. Walk the aisles, dig deeper into the value propositions and bring your questions and insights to share with your colleagues at each booth.
Conference Packed with Information, Ideas and Awards
To date, the 2021 AMUG Conference boasts 68 sessions and workshops across 10 topic tracks, with AMUG Diamond and Platinum sponsors scheduled for additional presentations on their technologies, materials and/or services. Daily track sessions include Aerospace/Transportation; Medical; Materials; Casting; AM Metal Technologies; AM Technologies Non-Metal; Scanning & Metrology; Education and Training; and Software.
Featured general-session presentations will kickstart each full day of the conference, from Monday, May 3, through Thursday, May 6. Monday's program features the AMUG Conference opening address along with event highlights and insights as well as an introduction to AMUG's new board nomination and election process. Tuesday kicks off with recognition of the recipients of the 2021 AMUG Guy E. Bourdeau (one college student) and Randy Stevens (one educator) scholarships, followed by presentation of the 2021 Distinguished INnovator Operator (DINO) Awards. Rounding out the morning, Todd Grimm of T.A. Grimm & Associates will present the International Report, which reviews worldwide AM activities and trends. Wednesday features the Innovators Showcase, a fireside chat with Dr. Hans Langer, founder of EOS; naming of the 2021 Technical Competition winners; and presentations on the winning applications from the previous Technical Competition. On Thursday, Dr. Jonathan Morris of the Mayo Clinic shares the outcomes of a 16-year journey to achieve point-of-care manufacturing, in which AM plays a crucial role.
Pre-Conference Training and Certification
Available to conference attendees at additional costs and via separate registrations are two new AM training and certification courses.
2021 AMUG Conference Schedule
May 2-6, Hilton Orlando, Orlando, FL
Sunday, May 2
Registration 10 a.m.-8 p.m.
New Member Welcome 3-4 p.m.
AMUGexpo and Networking Dinner 4-10 p.m.
Monday, May 3
Registration 7 a.m.-8 p.m.
Presentations, Sponsor Sessions and Training Labs
8 a.m.-5:30 p.m.
AMUGexpo 10 a.m.-1:30 p.m.; 6-10 p.m.
Tuesday, May 4
Registration 7 a.m.-5 p.m.
Presentations, Sponsor Sessions and Training Labs
8:30 a.m.-4 p.m.
Dinner: Offsite 6-10 p.m.
Wednesday, May 5
Registration 7 a.m.-6 p.m.
Presentations, Sponsor Sessions and Training Labs
8:30 a.m.-5:30 p.m.
Dinner: Florida-Style 6-10 p.m.
Thursday, May 6
Registration 7-11 a.m.
Presentations, Sponsor Sessions and Training Labs
8:30 a.m.-5:30 p.m.
Family Dinner and Closing 5:30 p.m.
Cost, covering all sessions, meals, open bars, and onsite and offsite events, is $1495.
Register at www.amug.com/attendee-registration.
The ASTM Certificate Course, Quality Assurance for Additive Manufacturing, is aimed at individuals with existing experience in AM wishing to understand the routes to releasing products requiring quality assurance and control. This course will provide guidance on what is key to control quality output and demonstrate compliance to requirements. Approaches here will be based on ASTM AM Standards and how they can be combined with the 'traditional' manufacturing toolkit. The two-day course will be followed by an exam to be conducted two weeks after training and held online. After successful completion of the course and passing marks for the exam, participants will receive the ASTM AM Qualify Assurance Certificate.
Also new: the Additive Manufacturing-Technician Review Program, offered through Tooling U-SME and UL. The Technician certification, according to course officials, is ideal for a candidate with a 2-yr. AM associate's degree or currently enrolled in a college program, and/or has one or more years of work experience in a manufacturing-related field. Successful completion of the exam (held on Sunday, May 2) yields the designation of Certified Additive Manufacturing-Technician (CAM-T). The certification covers key roles and responsibilities for an AM technician, the AM process chain, design for AM, materials and process selection, secondary processes, and key safety considerations.
Again, each of these courses requires a separate registration and cost apart from AMUG Conference attendance. Visit www.amug.com for details and to register. 3DMP
See also: Additive Manufacturing Users Group (AMUG)
Technologies: Management