Sciaky EBAM Ti-Alloy Deposition Rate Surpasses 40 lb./hr.
June 13, 2022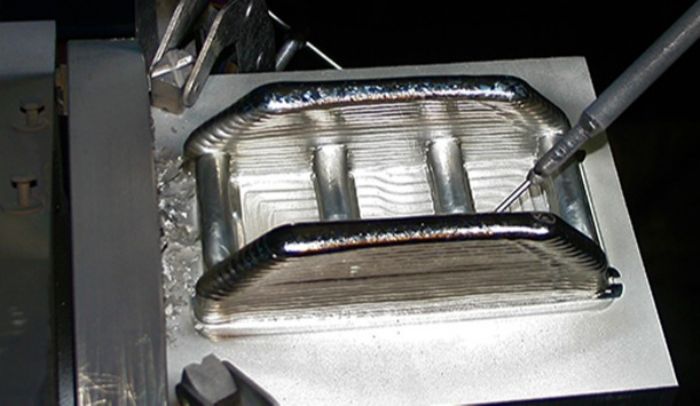 During its Metallic Advanced Materials for Aeronautics (MAMA) project, France's Saint Exupéry Institute for Research in Technology employed the Electron Beam Additive Manufacturing (EBAM) process from Sciaky, Inc. to deposit a titanium alloy at a rate surpassing 40 lb./hr. This marks the highest deposition rate achieved yet in industrial metal additive manufacturing, according to Sciaky officials.
Launched in 2019, one of MAMA's initial goals was combining die forging with metal 3D printing to develop a new process for manufacturing titanium aircraft parts. To date, Sciaky's EBAM has deposited more than 330 lb. of Ti-6AI-4V for three different MAMA applications. Additional projects are planned for 2022 and beyond.
Sciaky's EBAM system can produce parts to 19 ft. long. Its IRISS (Interlayer Real-time Imaging and Sensing System), providing real-time, closed-loop adaptive control, can sense and digitally self-adjust metal deposition. This enables consistent part geometry, mechanical properties, microstructure and metal chemistry, according to Sciaky officials.
"Sciaky is excited about EBAM's new deposition-rate milestone (on the MAMA project)," says Scott Phillips, Sciaky president and CEO. "We are committed to discovering new applications for EBAM that will help manufacturers save significant time and money on part production, as well as improve part quality."
See also: Sciaky Inc
Technologies: Directed-Energy Systems