Portable DED AM Robot Cell
November 2, 2022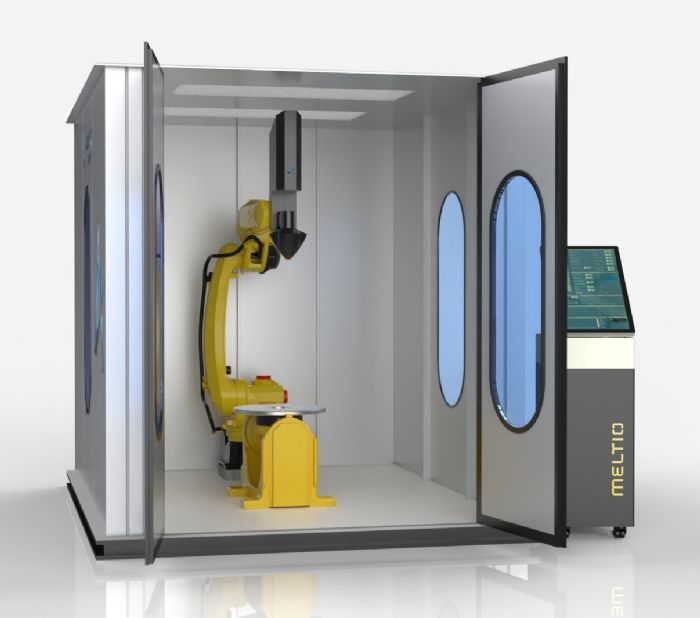 Additec has launched a portable additive manufacturing (AM) robot cell, the AMRC-P (AM Robot Cell-Portable). A turnkey robotic metal-AM system in a compact cell—and the world's first portable AM robot cell rated for reactive materials such as titanium—it can print parts to 1.8 meters in any dimension in a range of materials. The AMRC-P, featuring directed-energy deposition (DED) technology, can be customized with any industrial robot to fit a user's specific needs.
The system features customizable software tools to accommodate complex multi-axis geometries to ease the printing process, making metal AM more accessible for both experienced and new users, according to company officials.
The cell features a Meltio printing engine, a multi-laser deposition head (Additec is a founding partner of Meltio) with multi-material capability that allows for printing dual wire for hard-facing or anti-corrosion applications, or wire and powder to create new alloys.
"Additec developed the AMRC-P to address what we saw as a strong demand in the market for a low-cost turnkey robotic AM solution with the added flexibility of portability," says Tilip Thiyagarajan, Additec business manager.
See also: Additec - Additive Technologies, Meltio Inc
Technologies: Directed-Energy Systems