Metal Printing Based on Arc Welding
November 3, 2017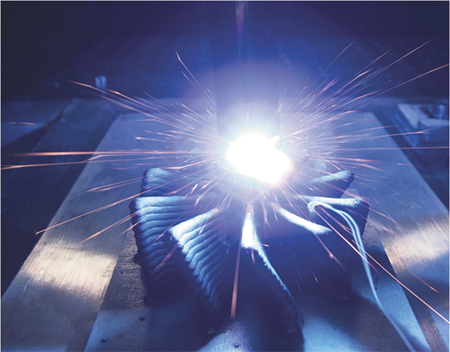 Gefertec GmbH, Berlin, Germany, unveils its 3DMP metal-printing technology at FABTECH (November 6-9 in Chicago), which, based on electric arc welding and using wire as the original material, can produce near-net-shape parts.
Final parts, which compare in quality to traditionally manufactured parts, according to company officials, are formed welding layer by welding layer. Reported advantages over other AM processes include no powder handling and availability of most standard materials at lower costs than powder alternatives, as well as maximum material utilization. Also beneficial, production speeds can reach 600 cm.3/hr.
3DMP technology can be used in the company's GTarc machine, which is available as a three-axis version for parts in sizes to 3 m3 and as a five-axis version for parts to 0.8 m3. These machining centers are ideally suited for the production of complex and large parts made of steel, nickel, titanium or aluminum, according to company officials. 3DMP CAM software calculates the data of a CAD-modeled part, which enables a CNC-control unit to position the welding head with high precision. A standard CNC milling machine can handle finishing chores.
The Gtarc's modular construction enables simple upgrades. For example, users can upgrade the three-axis version with a pan-tilt-table to obtain the five-axis version.
Gefertec GmbH: www.gefertec.de/en
See also: Gefertec Gmbh
Technologies: Directed-Energy Systems