German Railway Supplier Adds Doubles 3D Capacity
September 20, 2019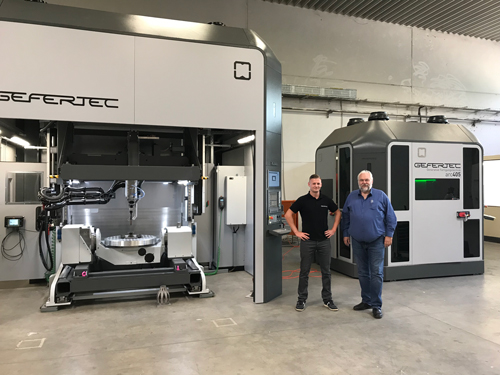 L-R: Gefertec's Thomas Kögler with Gregor Sodeikat, CEO at Rolf Lenk.
Berlin, Germany-based Rolf Lenk Werkzeug- und Maschinenbau, provider of parts for the railway industry and an early adopter of 3D metal printing, has ordered an arc405 by Berlin-based
Gefertec
, one year after purchasing an arc605. The machines use arc welding technology, with wire as the primary material. The arc405 produces metal to 0.06 m3 with a maximum mass of 200 kg while the arc605 can produce components to 0.8 m3 with a maximum mass of 500 kg. Rolf Lenk's core business.
See also: Gefertec Gmbh
Technologies: Directed-Energy Systems