Aluminum Large-Part Hybrid Manufacturing
November 18, 2021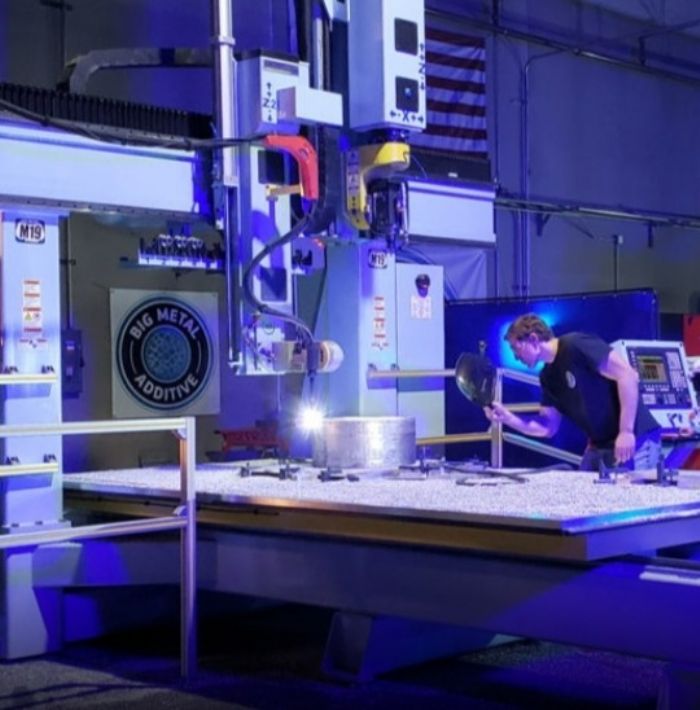 At Formnext...Big Metal Additive, Denver, CO, informed showgoers on its capabilities in design adjustment and optimization, wire-fed additive manufacturing (AM), and five-axis cutting and machining to produce chiefly aluminum parts for customers. Aerospace, space, automotive and military larger-part applications are ideal, as the company boasts 6 by 12-ft. AM worktables.
Big Metal Additive's unique AM process provides interesting material properties according to the company's general manager, Ty Stranger-Thorson, who filled in 3D Metal Printing on the technology at Formnext. Namely, the material exhibits full tensile strength at 0-, 45- and 90-deg. angles—atypical in layer-by-layer AM processes, where Z-axis tensile strength tends to suffer. And, the process combines additive and subtractive work on a single platform. This reportedly ensures dimensional integrity and consistent quality because each deposition layer is machined for cleanliness and dimensional control.
Founded by industry veteran Dr. Slade Gardner, who serves as president, Big Metal Additive has 12 employees.
See also: Big Metal Additive Inc
Technologies: Directed-Energy Systems