Technical School Receives $25 Million Award to Bring Cold Spray 3D Printing to the Battlefield
September 11, 2019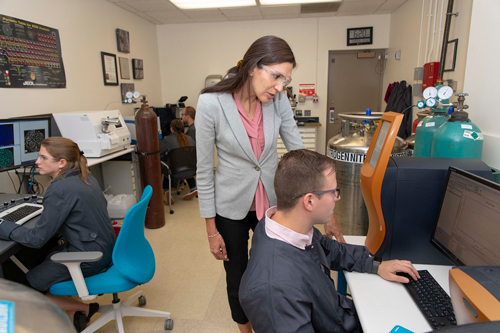 Worcester Polytechnic Institute Professor Danielle Cote (center) leads a research team that will study cold spray 3D printing techniques.
Worcester Polytechnic Institute
, Worcester, MA, received a three-year, $25 million award from the
U.S. Army Combat Capabilities Development Command Army Research Laboratory
to use cold-spray 3D printing to repair vehicles and other critical technology in the field, thus increasing the readiness of military units. Cold spray uses a pressurized gas to accelerate metal powders to near supersonic speeds. The force of impact causes the powders to adhere to the metal upon impact, eliminating the need to melt the powders. In addition, the process can reduce to a portable handheld applicator, which makes it attractive for use in the field.
Video: Watch how the military plans to use 3D printing technology.
Technologies: Directed-Energy Systems