More than just the sum of their parts, these hybrids can machine or finish parts in sections, prior to part completion when access for machining and finishing would be impossible. The technology also allows repair of and additions to existing parts.
Here is some of what's out there…and we'll have more in future issues of 3D Metal Printing.
Combination AM, CNC Grinding and In-Process Part Inspection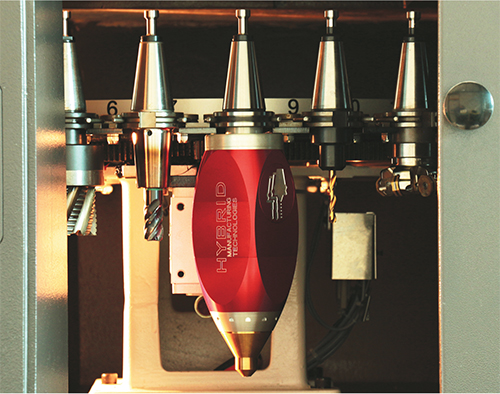 While attending a UK tradeshow last year, 3D Metal Printing caught wind of production-ready AM/SM technology from Hybrid Manufacturing Technologies, Dallas, TX, though in truth the company had been working in partnerships for years on the project. The effort has paid off with a couple of new products.
The AmBit multi-task system consists of heads and docking systems that allow virtually any CNC machine or robotic platform to use nontraditional processing heads in the spindle, and conveniently change between them. Changeover is completely automated and only takes seconds, according to company officials—changing from adding metal to cutting it requires a simple tool swap.
The company also has premiered millGrind, what it calls the world's first hybrid grinding machine on the market.
The millGrind, a continuous-dress creep-feed grinding machine manufactured by Elb-Schliff WZM GmbH of Germany, comes equipped with AmBit laser-cladding and milling capability (AmBit cladding head pictured within a CNC tooling magazine). The system integrates surface and profile grinding with AM in a single setup, reducing the traditional number of setups needed to achieve finished parts.
"Precision-ground surface finishes now are achievable in-process on parts made by additive manufacturing," explains Dr. Jason Jones, Hybrid Manufacturing chief executive officer. Grinding particularly excels in cost-effectiveness for processing materials that are difficult to machine, such as nickel-based superalloys, performing finishing more precisely than milling, according to company officials, and making this setup ideal for aerospace applications. The millGrind runs conventional abrasives (corundum) and has an XYZ resolution of 0.1 µ. Changeover between grinding wheels can be performed within seconds. In addition, the 8000-rpm spindle can be automatically loaded with milling cutters for drilling, tapping and other milling operations as needed.
Hybrid Manufacturing Technologies: www.hybridmanutech.com
Laser Addition Plus Finish Machining in One

The Integrexi-400AM hybrid machine from Mazak, with U.S. headquarters in Florence, KY, is ideal for small-lot production of difficult-to-cut materials, using its additive capability to generate near-net-shape component features and then completing them via precision finish-machining operations. If needed, the machine also can laser-mark parts.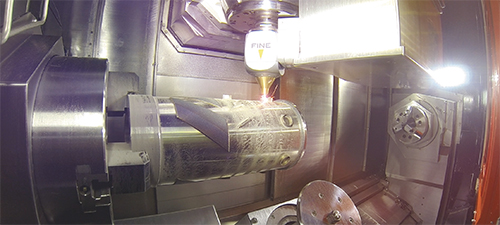 Fiber-laser heat melts the metal powder and the cladding heads add the molten material layer by layer. Also, the machine can join different types of metals together, allowing for repair of existing worn or damaged components such as aerospace turbine blades.
Its full five-axis machining capability enables processing of AM parts, prismatic parts from solid billets or castings, round parts or highly contoured parts.
The Integrex i-400AM features dual laser-cladding heads that provide options for high-rate and fine-metal deposition. The two cladding heads complement each other much like roughing and finishing tools work together in chip making, according to Mazak officials. The cladding heads reside in the tool magazine with the machine's automatic tool changer ready to load/unload them into/from the milling turret as needed.
Specific part examples ideal for this equipment include ribs, tubular extensions, fan blades and flanges. It is also possible to generate new part features in a material that is harder or lighter than the parent workpiece material.
Furthermore, the cladding heads can be used to coat chosen sections of the part with metal, allowing the machine to repair worn or damaged high-value components such as turbine blades.
Mazak Corp.: www.mazakusa.com
Robot-Programming Research Targets AM/SM Combination

UK-based Delcam has added an ABB robot fitted with a Fronius CMT welding head at its headquarters in Birmingham, to be used mainly for research into the programming of robots for the AM of metals with Delcam's PowerMill Robot software.
Cold-metal-transfer welding initially developed by Fronius can join materials with different properties, in particular for welding aluminum to steel. The process uses very-high-frequency movement of the wire for clean, spatter-free material transfer, and provides a stable, reproducible deposition of material that Delcam believes has excellent potential in metal AM.
The ABB robot arm acquired by Delcam offers six axes of movement, with an additional two axes, tilt and rotation provided by the table holding the material. This additional flexibility allows parts to be oriented into the optimum position as they are being built, thus enabling complex shapes to be created with lesser need for extra support structures.
PowerMill Robot simplifies programming of a robot for machining, and via an application inside of the software, users have access to all the multi-axis machining strategies within PowerMill Robot and can use all the system's project management options to manage, store and retrieve data.
As well as making it possible to program robots for AM, the software can be used for tool-to-part applications, especially for machining large parts or for part-to-tool applications such as grinding or polishing.
Delcam: www.delcam.com
Laser-Deposition Welding Combines with Milling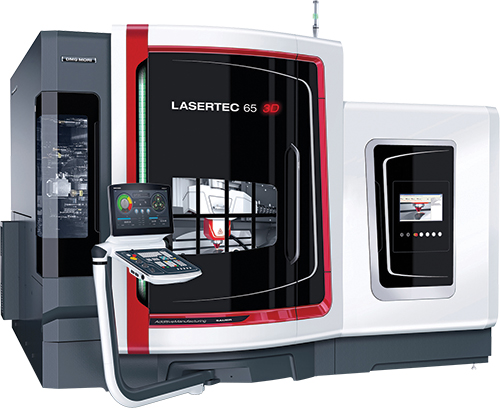 DMG Mori, with U.S. headquarters in Hoffman Estates, IL, has integrated AM with a high-tech five-axis milling machine to create the LaserTec 65 3D, combining the flexibility of the laser-metal-deposition process with precision cutting to offer superior finish, according to company officials. Metal deposition is via powder nozzle, reportedly as much as 10 times faster than part generation in a powder bed.

The process combo makes possible new applications and geometries, especially for large workpieces with high stock-removal volumes, as the flexible, fully automated switch between laser and milling operations allows direct milling and machining of sections not reachable with the finished part.
The Lasertec 65 3D, with a footprint of 130 sq. ft., includes a full five-axis milling machine from Deckel Maho in a stable monoBlock design, with the integration of a laser head and interface from HSK. The setup allows for workpieces to 23.6-in. dia. and 15.7 in. high, and weighing to 1322.8 lb.
DMG Mori: www.us.dmgmori.com
Modular 3D-Printing System Designed for Addition to Machine Tools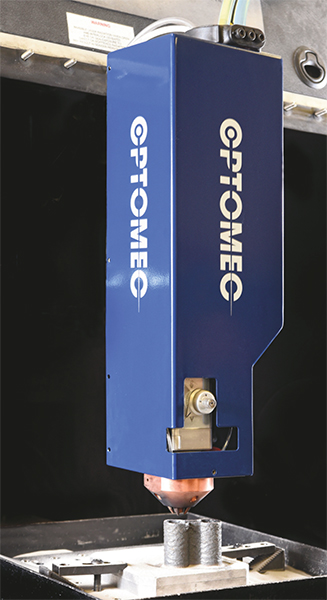 The Lens Print Engine provides Optomec, Albuquerque, NM, with metal 3D-printing technology in a modular form for rapid integration with other metalworking platforms such as CNC mills, lathes, robots, custom gantries, or even laser cutting and welding systems, according to company officials. Lens Print Engine components include Optomec's proprietary SteadyFlow powder feeders, a Lens processing head with interchangeable nozzles, fiber laser, integrated tool-path-generation software, SmartAM closed-loop controls and full safety packages. The engine, according to Optomec, is targeted for customers wishing to upgrade their existing metalworking systems with AM capabilities or for machine-tool OEMs as a value-add option to their current system offerings.
The SmartAM process control monitors and adjusts key process parameters during part build to help ensure consistency in metal parts. As the parts are built layer upon layer, heat from the laser builds up in the part, which can affect the size of the melt pool and, in turn, can affect the microstructural properties and dimensional accuracy of the printed metal. The control adjusts to compensate for the buildup.
SmartAM technology consists of special focusing optics and a melt-pool sensor, housed within the Lens' deposition head. The sensor monitors the build process and control software automatically adjusts laser power to keep a constant melt-pool area. Numerous studies have demonstrated that this closed-loop method is effective in controlling heat input and cooling rate, and thus promotes microstructural uniformity that defines the mechanical properties of the printed metal, according to Optomec officials. They note that maintaining melt-pool size also ensures geometric and dimensional integrity of the final part. In operation, the control reportedly reduces laser power dramatically from the first layer to the end of the build.
Optomec: www.optomec.com
Rapid Manufacturing via AM and SM
The Cybaman Replicator, from Cybaman Technologies, Chesire, UK, is a fully automatic computer-controlled rapid-manufacturing system employing both subtractive or additive processes to produce components. Developed specifically for high-speed machining of 3D metal components to 170 cu. mm, the machine presents each facet of a workpiece to a cutting tool in an automatic sequence. Tool paths are generated using hyperMill CAD/CAM software and then converted into machine movement with the Cybaman postprocessor.
The workstation houses a six-axis, PC-based, CNC-software-driven positioning system comprising a three-axis articulated robotic manipulator and high-speed machining spindle mounted on three linear axes. The compact machine, with remote monitoring and control, can be supplied with a laser powder-deposition head for rapidly building metal parts directly from a CAD model.
It can work with various materials including aluminum, titanium, zirconium oxide, cobalt chrome, ceramics, precious metals and acrylics such as Plexiglas.
Cybaman Technologies: www.cybamantech.co.uk
See also: Mazak Corp., DMG Chicago Inc., Delcam USA, Optomec Inc., Hybrid Manufacturing Technologies
Technologies: Directed-Energy Systems