Siemens Using AM in New Rail-Maintenance Center
September 24, 2018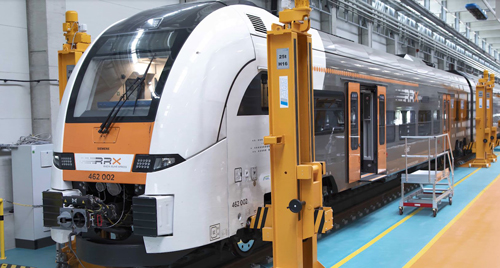 The Siemens Mobility RRX Rail Service Center is the company's first digital rail maintenance center, with Stratasys FDM 3D printing at the heart of its servicing operation. (Photo: Business Wire)
Siemens Mobility GmbH, part of Siemens AG
, has opened its first digital rail maintenance center—
the Siemens Mobility RRX Rail Service Center
in Dortmund-Eving, Germany. At the heart of the depot's servicing operation is a
Stratasys Fortus 450mc fused-deposition-modeling 3D printer
.
With the center, Siemens Mobility has eliminated the need for inventory of selected spare parts, reduced the manufacturing time of these parts by up to 95 percent and can now respond to all internal and customer demands seamlessly. The company expects that approximately 100 trains will enter the depot every month.
"Every train has to go through maintenance several times a year," says Michael Kuczmik, head of additive manufacturing at Siemens Mobility GmbH. "As you can imagine, all our customers would like this process to be as quick as possible, but they still expect maximum levels of detail, safety and quality in the work we do. We also have to consider unplanned or last-minute jobs, and if you look at the different train models and companies we service, this requires a lot of customized solutions. This is where our Fortus 450mc fits in perfectly, providing us the ability to rapidly and cost-effectively produce one-off, customized production parts."
See also: Siemens Industry, Inc.
Technologies: Applications