High-Tech Application: 100 Parts to One and 95-Percent Weight Reduction Thanks to AM
August 11, 2017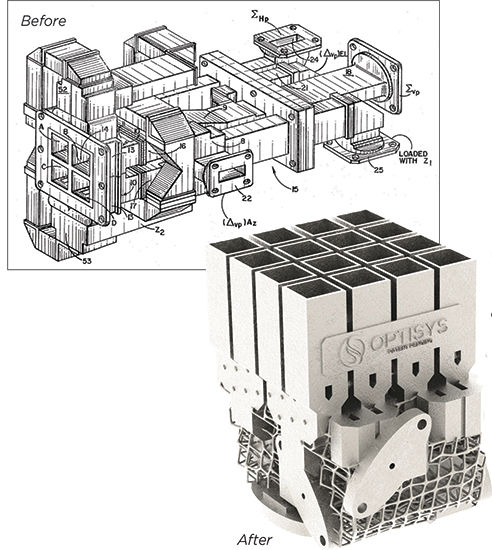 Optisys LLC, a provider of 3D-printed metal micro-antenna products for high-performance aerospace and defense applications, recently completed a project that documents the significant advantages of employing additive manufacturing (AM) to produce such systems.
Complex radio-frequency (RF) components that make up an antenna system for aircraft and satellite applications can be large and heavy—characteristics that can impact mobility and performance.
"Companies in the commercial and military space are pressured for shorter lead-times, lighter weight and smaller antennas," says Clinton Cathey, Optisys CEO. "By combining RF design simulation, mechanical engineering and system optimization focused on AM, we provide metal 3D-printed antenna products at greatly reduced size, weight, lead-times, part count and cost—with as-good or better RF performance than conventionally manufactured systems. We're creating structures that were simply not possible to produce in the past."
As an example, a test-piece demonstrator project involved a complete redesign of a high-bandwidth, directional tracking antenna array for aircraft (known as a Ka-band 4×4 Monopulse Array). Optisys performed every aspect of the design work inhouse and printed the component in a single piece on its machine from Concept Laser Inc., Grapevine, TX.