3D Printed Bridge Scheduled for Installation in The Netherlands
April 27, 2018
First announced in June 2015, a fully functional 3D-printed stainless steel, measuring 12.5 m in length and 6.3 m in width, and weighing 4500 kg is set for installation in 2019, when it will span across Oudezijds Achterburgwal, one of the Amsterdam's most historic canals, built in 1367.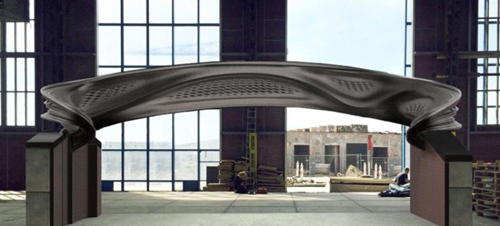 Designed by Joris Laarman Lab, not only is the MX3D Bridge vast in size, it features complex and graceful geometries resulting from the use of specially designed software and four multiaxis robots. It took six months of printing to complete the full span of the bridge, which will undergo rigorous testing to verify its integrity.
"This bridge will show how 3D printing is entering the world of large-scale, functional objects and sustainable materials, while allowing unprecedented freedom of form," says Joris Laarman, founder of the Amsterdam firm. "The bridge is a beautiful metaphor for connecting the technology of the future with an historic city in a way that brings out the best of both worlds."
For more,
www.jorislaarman.com
.
Technologies: Applications