3D Systems itself formed in 1986, an outgrowth of company cofounder Chuck Hull's invention of SLA and the world's first 3D-printed part in 1983. Touted as the first 3D printing company, 3D Systems, with 2500 employees worldwide, calls Rock Hill, SC, its headquarters home. Hull currently serves as the company's chief technology officer.
From its SLA roots, 3D Systems has continued to innovate, producing additive manufacturing (AM) machines, software, materials and services and boasting more than 1000 patents. Specifically in the healthcare sector and reportedly producing the first 510(k) FDA-cleared medical device in titanium, the company today supports nearly 90 510(k) and CE marks (clearances for European Union). And, at the end of 2019, 3D Systems reported its one-millionth printed implant.
Heady numbers, indeed…and there's more. The company has more than 125,000 surgical cases under its belt, and has more than 5000 surgical simulators installed worldwide with 10,000-plus surgeons trained, through the fourth quarter of 2019.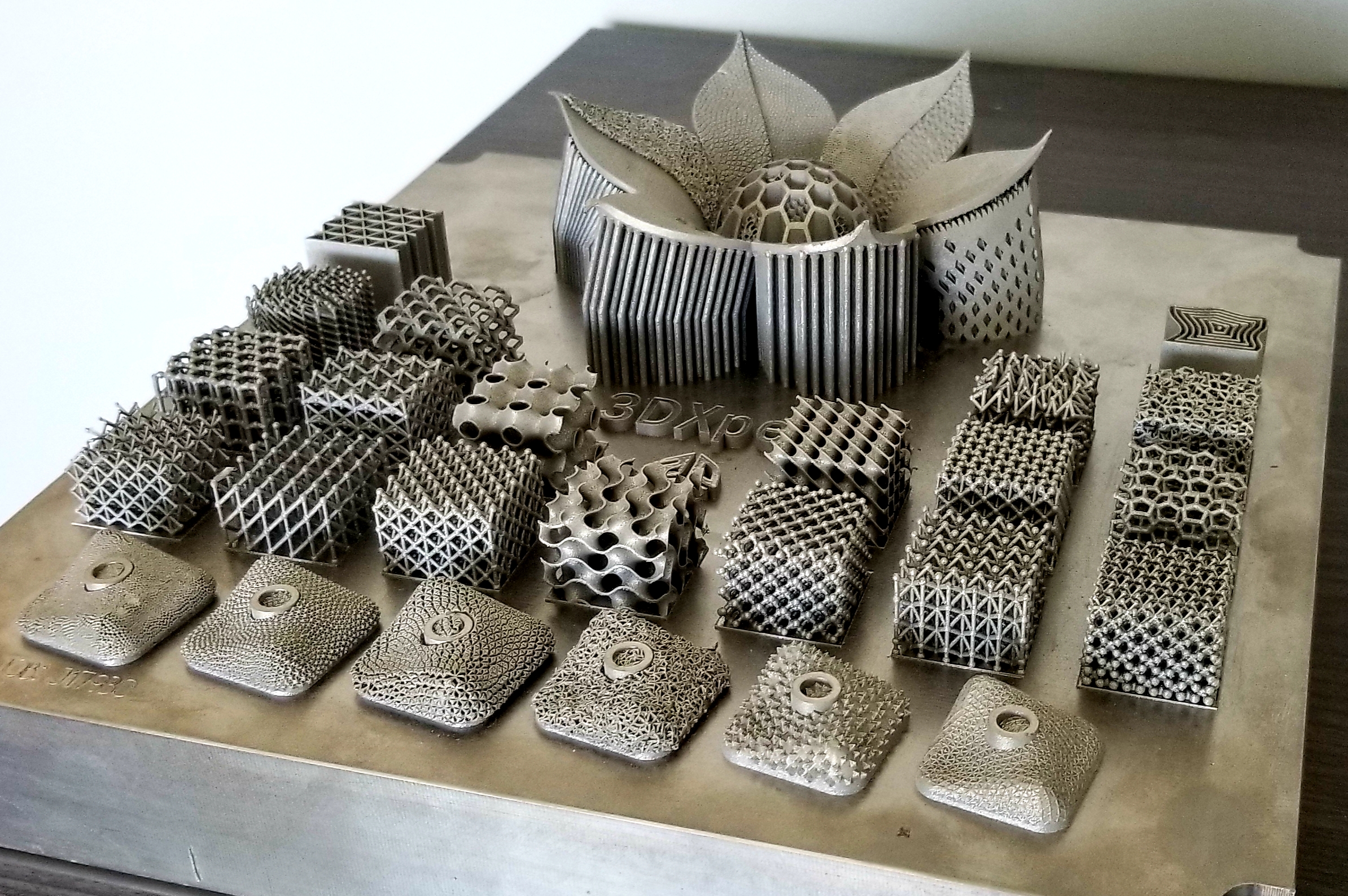 This display in 3D Systems' Littleton Customer Innovation Center highlights inhouse capabilities for producing complex metal parts.
"We are at the forefront of connecting the dots for hospitals and medical-device companies and their users, through the employment of 3D printing technologies," says Gupta, offering the raison d'etre of 3D Systems' Healthcare segment.
The Healthcare segment is supported by 3D Systems' R&D and machine-manufacturing facilities in Leuven, Belgium, as well as assembly operations and other partnerships in Antwerp, and a partnership in Switzerland with Georg Fischer. Additional 3D Systems units operate in France and Israel, with support offices worldwide.
Focused on Scalability, Application Development
Littleton's CIC, one of two under the 3D Systems umbrella dedicated to metals, focuses on servicing North and South America as well as Asia. Leuven houses the other.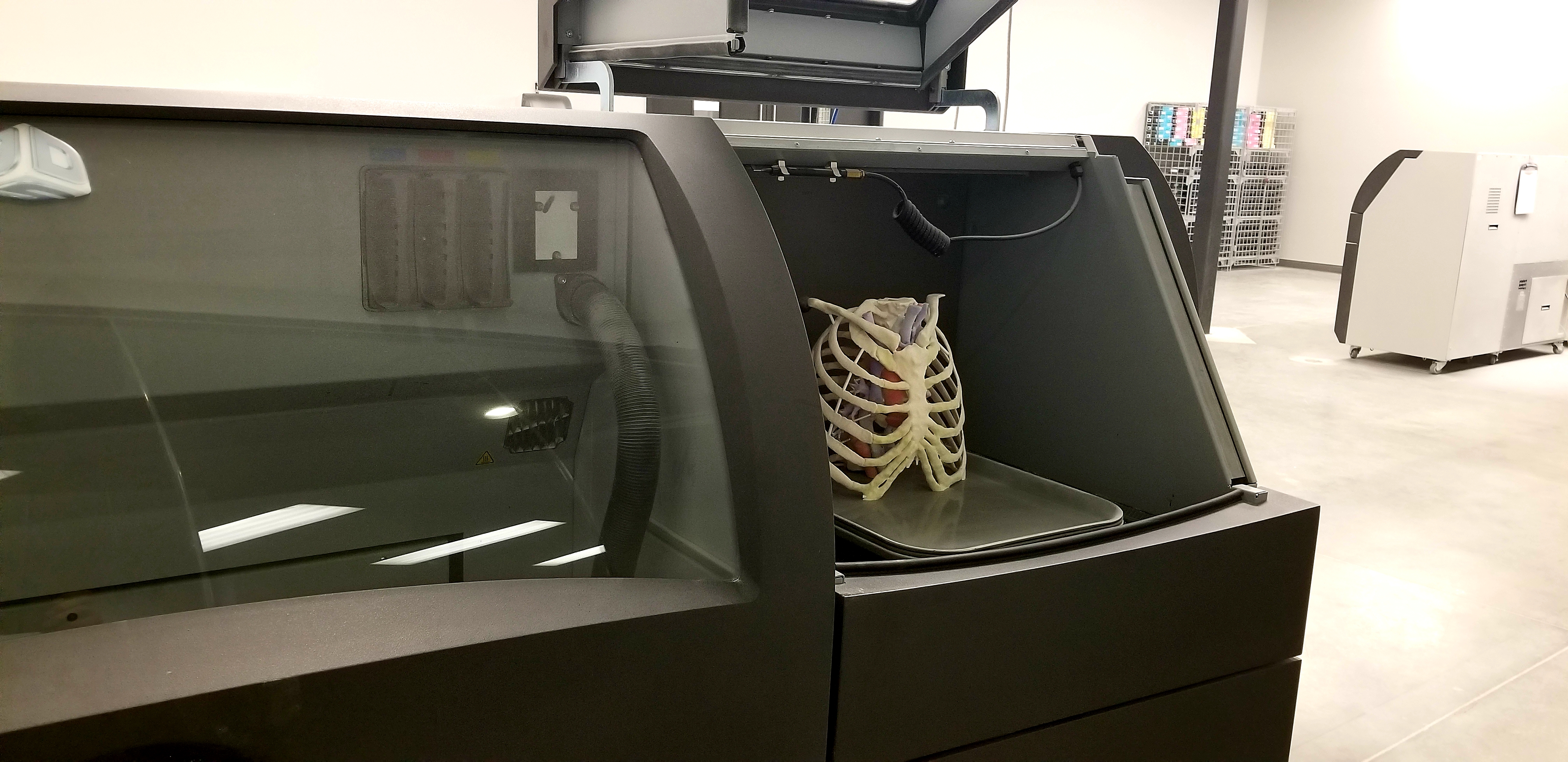 Nonmetal printers at Littleton keep busy printing realistic, multicolor medical models and surgical training aids, as well implants and instruments.

"Scalability or application development represents our core focus in Littleton," explains Ruppert—"how we can bring something to market. A customer would describe an application, and we can design something around it or work with some of our internal teams on topology optimization, for example. Teaming with our Engineering Services and Professional Services groups, we take what we know in running qualified, validated processes to customer sites to help them navigate the process. Our application-development operations sit on a three-point stool, so to speak, supported by quality engineering, manufacturing engineering and application engineering."

The CIC also conducts new-user machine-operation training as well as advanced training.

Serious Support During COVID-19 Crisis

When we visited last fall, neither we nor those at 3D Systems had any inkling of what 2020 would have in store. Today, in the midst of the COVID-19 crisis, 3D Systems, like many others across the AM spectrum, has lent its expertise to the fight.

In March, the company announced the offering of its services while seeking out partners and customers to join in. Interested parties, including hospitals and healthcare providers requiring help to bridge supply-chain gaps, can inform 3D Systems of capabilities and needs via an online form at www.3dsystems.com.

Also in March, the company made available on its website a file for AM of face-shield frames. As of April 24, that file had been downloaded more than 2000 times.

Recently, in response to concerns expressed regarding creation of medical devices using materials that are not biocompatible, 3D Systems released a Material Technology Recommendation Chart on the COVID-19 Response page of its website. The chart identifies the best candidates for printer-material combinations for which either Class VI and/or ISO 10993 certifications are possible. It includes potential solutions to applications in emergency situations where materials are not Class VI- and/or ISO 10993-certified.

Overall, 3D Systems' On Demand service currently is involved with approximately 50 different projects to support healthcare workers and medical-device manufacturers during the pandemic, according to company officials. The company, through its supply chain, is working with private enterprises, NGOs and hospitals to fulfill prototyping and volume-manufacturing requests, as well as bridge gaps in the traditional supply chain. Projects include face shields for hospitals in the United Kingdom, Italy and United States; face masks; ventilator components; disposable valves to convert scuba masks to emergency ventilators; and door openers.

At the 3D Systems facility in Pinerolo, Italy, its team produced more than 700 COVID-19-related medical components in one week. As an example of rapid delivery, the team received an urgent request from an Italian hospital for disposable valves for emergency ventilator masks. It received the request at 11 a.m., produced a brand-new design, printed and packaged 30 parts, and delivered them all by 7 p.m. that same day.


In healthcare, most 3D Systems metals-related work focuses on musculoskeletal applications with heavy use of titanium, according to Ruppert, where hardware replaces static bone. Products include spinal cages and reconstructive supports, with patient-specific applications including acetabular implants and cranial plates. Veterinary applications here also use quite a bit of titanium (the name of one implant customer, appropriately enough: Dog Bones), as do cardiovascular applications, for pacemaker components and such. Dental comprises a large share of work at Littleton, primarily polymer-based as opposed to metal.

Littleton operates 24/7, with some builds taking days to complete. That's why the infrastructure features redundant power and climate systems. Failed builds due to power outages can become exceedingly expensive. The longest build time at Littleton, according to Ruppert: 14 days on an obviously complex part.

With expertise from design to build, 3D Systems at Littleton offers a hybrid model of sourcing for its customers to provide supply-chain redundancy. Customers can outsource production to 3D Systems and its significant inhouse capacity—on its own, the company produces more than 100,000 dental and medical implants annually. Or, production can be outsourced to 3D Systems' network of qualified partners, or split between the two. If preferred, customers can insource production.

Surgical Successes Galore

During 3DMP's tour, Ruppert provided numerous examples of Littleton CIC successes. Working closely with medical partners and end-use practitioners such as surgeons, the 3D Systems team studies medical scans and other medical input to design and build all manner of instruments, surgical models, guides and implants. In one case, the team developed intricate bone and vascular models to train surgeons and provide reference during a 30-plus-hr. marathon operation to separate conjoined twins in New York, NY. 3D Systems had two employees with the models in the surgical suite for the full, successful procedure.

Another example: a facial transplant. "We didn't know what the donor would look like," Ruppert recalls, "so when the donor was identified to us, within 30 hr. we had employees on an airplane with the specific surgical models."

Such capability is testament to the associates operating the workstations at Littleton.

"We generally hire people with domain (i.e., medical or dental, or aerospace) expertise and not 3D printing expertise," Ruppert says. "Our ecosystem allows for learning the AM side very quickly. It's more important that our associates know what they are talking about and can speak the same language as a healthcare or aerospace customer."

From R&D to design to material to build, 3D Systems at Littleton has one overriding goal.

"We want everything we do to lead to a medical instrument, for example, that is better designed, perhaps lighter and with a minimum of assembly required," Ruppert offers. "As a result, a nurse in the hospital doesn't have to lift that heavy instrument, or the doctor doesn't have to spend 10 min. assembling it. And, patients get what they need, as good as or better than before. That's the needle that we are trying to thread." 3DMP


See also: 3D Systems

Technologies: Applications, Metal Powders, Powder-Bed Systems