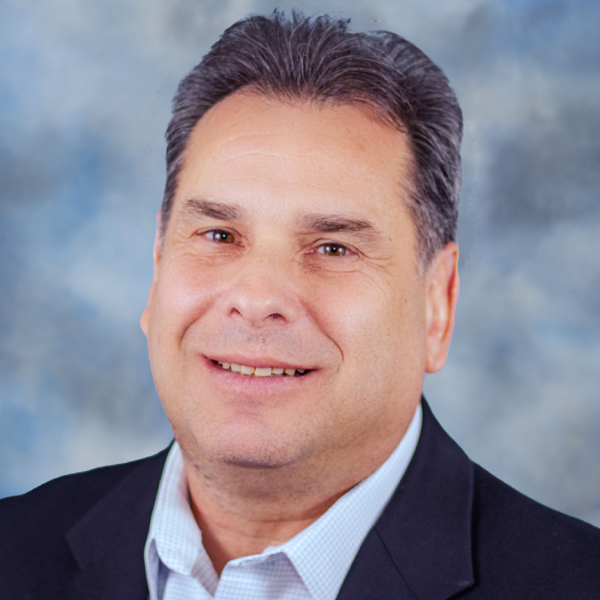 Brad Kuvin
Mass Customization Comes to Dentistry
October 20, 2016
As metal additive manufacturing continues to move from rapid prototyping and into rapid manufacturing, a few key technology developments are paving a smoother pathway. Paul Cascone, senior vice president of research and development at dental manufacturer Argen, commented on those technology developments in our recent interview. Argen has been 3D metal-printing crowns, bridges and other dental restorations at its U.S. facility in San Diego, CA, since 2007.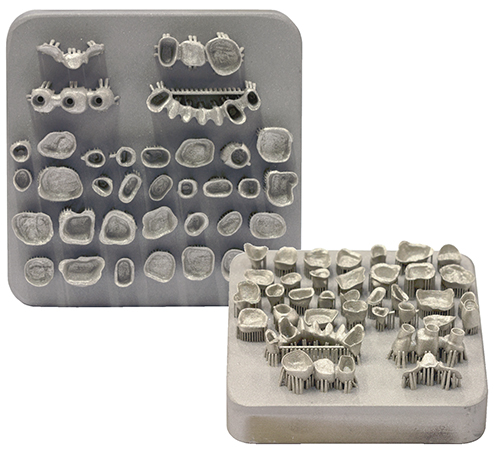 Argen prints several crowns and bridges, shown here on a 90 by 90-mm build plate, per production cycle on its Concept Laser Mlab 3D metal-printing machines.
Two key process enhancements, according to Cascone, have led to the use of 3D metal printing for rapid manufacturing of dental prosthetics/substructures:
Adoption of laminar flow of the inert gas into the build chamber and across the build plate, "which makes a tremendous difference in the quality of the build," he says; and
Improvements to the control software used to manage the laser, "particularly on critical downward-facing surfaces," Cascone says. "Newer software allows us to account for gravity and provide the surface texture of the 3D metal-printed surface that we need. As a result, we get cleaner builds that require significantly less post-processing. That's how metal additive manufacturing can evolve from rapid prototyping to rapid manufacturing."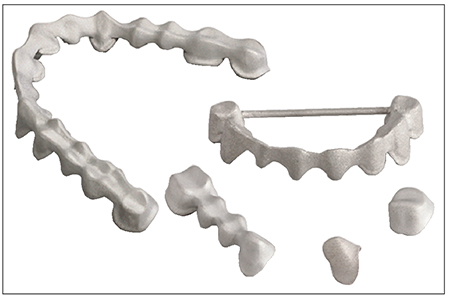 Additional examples of the type of work Argen can produce on its 3D metal printers—a 14-unit bridge (left), and substructures available as single-unit crowns up to eight-unit bridges (right).
Argen, traditionally a dental-supply company providing precious-metal alloys, moved into the service business in 2007 as the industry began its bold move into zirconium-based restorative products. Along with that trend came the need for dental laboratories and manufacturers, including Argen, to invest in digitization of the manufacturing process. That process—scanning patient profiles and creating digital STL design files for machining operations used to fabricate restorative products—created a whole new business model. Digitization, says Cascone, eventually led to Argen's investment in 3D metal printing.
"The digital workflow that began to take hold," he says, "offered opportunities to increase efficiency and to increase the number of products we could manufacture. In 2007 we purchased our first metal printer (an EOS 270 machine) and soon after we began to develop our own metal powders. In 2010 the business really began to expand, and today we operate 12 3D metal-printing machines in San Diego (eight Concept Laser Mlab models) at our digital outsourcing center, Argen Digital. We also operate two additional machines at each of our facilities in Great Britain and Germany."
Value-Dense Parts
Perfect for Additive