3D Systems Debuts Hybrid-Material Guides for Maxillofacial Surgeries
April 27, 2021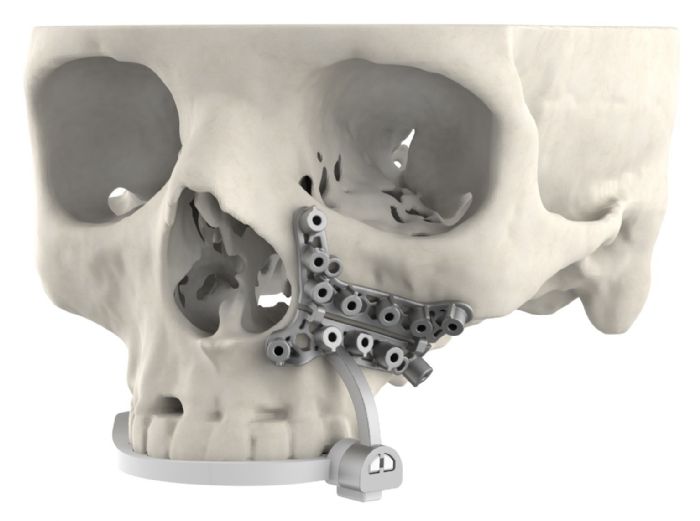 3D Systems has announced availability of its VSP (Virtual Surgical Planning) Hybrid Guides for maxillofacial surgical applications, manufactured using the company's titanium and nylon materials on its nonmetal- and metal-additive manufacturing (AM) machines. This solution for maxillofacial surgeons combines the strength of titanium with the relative softness of nylon in a single patient-specific guide that provides accurate guide placement and surgical site visibility. This latest innovation was engineered in response to customer feedback, according to 3D Systems officials, who note that it demonstrates the company's commitment to driving better outcomes for maxillofacial and reconstructive surgeons and their patients. Creating patient-specific surgical guides as part of the VSP System reportedly has been shown to save surgeons and patients hours in the operating room while improving patient outcomes.
The guides are produced using 3D Systems' LaserForm Ti and DuraForm ProX PA materials on the DMP Flex 350 and ProX SLS 6100 production-grade AM systems. The guides capitalize on benefits of each material: Tooth-based registration is achievable with nylon material, with the profile advantages of a rigid metallic cutting and drilling guide preserved. The guides are assembled via simple-to-use connection sites engineered to confirm a proper connection. And, the slim-profile guides provide easier placement in areas with limited exposure while improving a surgeon's visibility of the surgical site.
VSP Hybrid Guides result from a partnership of 3D Systems and Stryker to provide solutions to maxillofacial surgeons. The guides are compatible with Facial iD, Stryker's portfolio of patient-specific plating products. The combined surgical planning, improved patient-specific guides and patient-specific implant system offers the maxillofacial surgeon a complete end-to-end solution for a simplified patient-specific treatment experience, according to 3D Systems officials. This offering is currently in a limited launch phase with general availability expected this coming May.
"3D Systems and its VSP surgical planning and guides are an integral part of my ability to deliver highly successful outcomes for my patients undergoing corrective jaw surgery," says Dr. Jay Neugarten of the New York Center for Orthognathics and Maxillofacial Surgery. "Using the VSP Hybrid Guides together with Stryker's Facial iD customized plates streamlines my workflow in surgery. It's like using a satellite navigation system as compared to a paper map. This ability to seamlessly transfer my digital treatment plans to the surgical arena allows me to provide the highest level of care for my patients."