Sintavia Opens FL HQ to Serve Aerospace and Defense Clients
May 13, 2019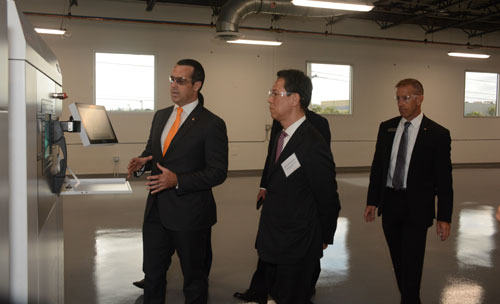 Brian Neff, chairman and CEO of Sintavia LLC, details the workings of one of many metal AM machines installed at Sintavia's new headquarters and manufacturing facility in Hollywood, FL.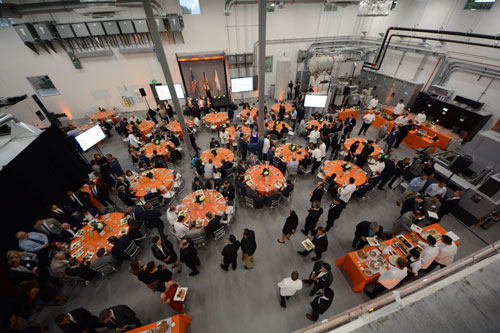 The cavernous post-processing department at Sintavia's new headquarters was transformed to serve as the main festivities and ribbon-cutting location during the HQ's May 9 grand opening.
Sintavia LLC, a Tier-One metal additive manufacturer for aerospace and defense clients, has officially opened its 55,000-sq.-ft. headquarters and advanced manufacturing facility in Hollywood, FL. Along with
3D Metal Printing
magazine, more than 150 customers, industry partners, and government officials were on hand May 9 to witness the ribbon-cutting.
"This new facility is the first of its kind in North America to offer large-scale additive manufacturing (AM) production coupled with a robust aerospace quality management system," says Brian Neff, Sintavia's chairman and chief executive officer. "As we grow, it will serve as a template for future vertically aligned advanced manufacturing facilities around the United States and the world."
Sintavia's new facility houses more than $25 million of advanced-manufacturing equipment including medium- and large-scale metal printers, electrical-discharge machines, post-processing equipment, wet-booths and multiple furnaces. Building features include separate manufacturing rooms segregated by alloy, large-scale powder-management system, uninterruptable power supply, inert-gas farm and a final production-acceptance quality-control room.
The new facility can produce thousands of parts representing in excess of $100 million of AM revenue annually, according to Sintavia officials, who note that the expansion (the company retains an R&D facility at its former headquarters in Davie, FL) is anticipated to create more than 130 new jobs for skilled employees and support staff. Grand-opening celebrants included Sumitomo Corp., a growth-equity-investment partner of Sintavia.

See also: Sintavia LLC
Technologies: Applications