During 3D Metal Printing's recent visit, CEO and chairman Brian Neff and president Doug Hedges stressed that, at the end of the day, Sintavia's success rests on quality control—not only having processes inhouse that take a project from start to finish, but being able to validate every step along the way. In the company's efforts to attract and retain aerospace OEMs, they see that ability as critical.
The plan seems to be paying off. Just this past January, Sintavia announced that it had received internal approval to provide AM parts for Honeywell Aerospace via the powder-bed fusion process. It reportedly is the first company to earn this approval, which covers all Honeywell Aerospace programs and had been in the works for 18 mo. as Sintavia underwent a rigorous qualification process.
"We look forward to demonstrating the benefits of additive manufacturing within Honeywell's supply chain in the form of lower costs, shorter manufacturing times and dramatic design improvements," Neff stated in announcing the approval.
Though incorporated in 2012 by Neff, Sintavia really got its start in late-2014, and now boasts 24 employees in 10,000 sq. ft. of space, filled with production, finishing and testing equipment. Neff brought Hedges over from CTS Engines, a Fort Lauderdale-based company specializing in maintenance and repair of jet engines, and both have a wealth of experience in aerospace. Intimately familiar with the industry, Neff and Hedges knew that AM success in aerospace depended upon process and material validation, and made that Sintavia's cornerstone.
"We look at AM as the core process, but you need to have other disciplines to do it well," explains Hedges. "You need to be good at design, post-processing, heattreatment, machining, finishing and more. All of that is pivotal to the AM process."
Proof Is in the Powder
"Metallurgy differentiates us," Hedges says, touting Sintavia's full metallurgical laboratory. "This is the first area that we focused on—the characterization process of metal AM—and we were setting up the met lab while still planning on what primary AM equipment to buy. We investigated tensile and fatigue frames, heattreatment machines, HIP setups and more. Now, with our capabilities, we can prove our parameters from our machines in the metallurgical lab. It is a step-wise approach to learning how to make good parts."
Sintavia relies on its own testing to make sure that arriving powder—core materials include nickel-based alloys as well as titanium and aluminum—is exactly what it is claimed to be.
"We perform full powder characterization as the powder arrives from vendors, even if it comes with certification," offers Hedges. "That includes a number of tests to assess particle size, distribution, flowability and much more. We do all of this ourselves. We want to be responsible for the parts right from the beginning."
Formidable Printing Lineup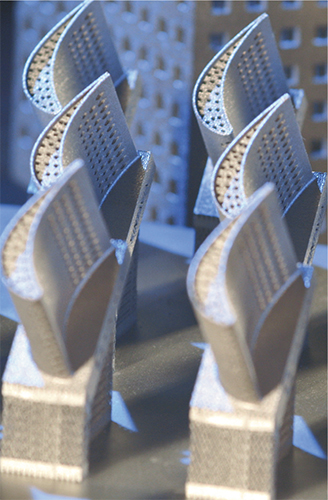 With powder internally certified, Sintavia's shop floor is poised to produce. The roster includes three SLM Solutions 280 selective-laser-melting machines, one single-laser and two twin-laser; one EOS M 290 direct-metal laser-sintering machine; a Concept Laser M2 direct-metal laser-melting unit; and an Arcam Q20plus electron-beam machine. Add to that a newly installed EOS M400-1, and in March, Sintavia will bring online a Trumpf TruPrint 3000.
Most of the machines are locked down to run a single material, notes Hedges, as many of Sintavia's customers do not want machines sharing powders in order to eliminate the possibility of contamination. Though Sintavia quotes part runs into the thousands, most production, especially for aerospace, ranges from 10 to 100 parts per run.
Even after a build, powder is top of mind.
"We perform powder sampling and reconditioning after every build," Hedges says. "We take the powder out of the machine and sample it. We characterize that powder in our met lab to determine its ongoing life. Can it last five, 10 or 20 more runs? The industry doesn't really know, so we have developed intellectual property to help us determine that."
Heattreat, HIP and More Inhouse
For an all-inhouse operations, especially one like Sintavia that validates every step of the way, after the build is no time to relax. The company brings vast resources to bear in meeting unique post-build challenges. For example, for critical aerospace applications, HIP and vacuum heattreatment are required to remove porosity from the part, increase ductility and reduce fatigue damage. Sintavia has invested in both technologies.
That includes a Quintus Technologies QIH 15L HIP press, featuring a 7.3 by 19.7-in. hot zone, capable of pressure to 30,000 psi and able to handle temperatures to 2550 F. Its Uniform Rapid Cooling technology, which incorporates densification and heattreatment capability, reportedly allows for shortened cycle times, thus higher productivity. The furnace, a Super Series X model from T-M Vacuum Systems, Inc., offers a 2-cu.-ft. work zone and can hold as much as 200 lb. of material. It can be used for brazing, sintering, tempering, austenitizing, hardening, stress relieving, bonding, annealing and more.
"Vacuum heattreating and HIP set us apart," Hedges says. "We have a high-vacuum furnace for stress relief, which produces brighter parts due to a lack of oxygen in the chamber."
The furnace, capable of rapid quenching, provides needed stress relief. After wire-EDM work to remove supports and the base, HIP may be the next destination, to address internal imperfections such as voids. Parts of nickel-alloy material, for example, then return to the vacuum furnace. These procedures help guarantee the needed mechanical properties.
"We may be alone among businesses of our type in being able to offer these processes inhouse," says Hedges, noting advantages related to costs, lead time and most importantly, quality control. "We know that AM parts are not ready for use without the right post-processing. We have a lot of intellectual property related to these steps that assist greatly in producing the required final parts. Outside companies can provide heattreating and HIP services, but we can do all of this in two to three days instead of shipping parts out and waiting two or three weeks. Also, we have complete control. Our customers may not want their parts shared with other parts and other materials in order to fill a large furnace. So for quality-control, lead-time and cost reasons, we believe that the ability to perform heattreating and HIP inhouse is an advantage."
Metrological scanning via CT and blue-light scanners, another inhouse capability, also assists greatly in quality efforts. The blue-light unit is ideal for reverse engineering and part measurement, while the CT scanner offers the ability to not only measure density but locate trapped powder. With multiple scanning and measuring tools, Sintavia can verify and confirm quality measurements in various ways.
Besides the comprehensive list of capabilities presented above, Sintavia offers much more, including part-design and design-for-manufacturability expertise on the front end, in situ monitoring that allows for rapid assessment of a build and confirmation of parameters, and a generator to avoid interrupted builds due to power failures.
New, Larger Facility Coming
Looking ahead, Sintavia soon will have a new home. The company is expected to move into a $15-million, 55,000-sq.-ft. headquarters and manufacturing facility in nearby Hollywood this coming fall.
"Our new facility will serve as a template for future AM facilities around the world," says Neff. "We will pioneer, and continuously improve, an optimized flow of work centered around Sintavia's vertically aligned quality system."
The new facility is expected to result in 110 new jobs for skilled technicians and support personnel, according to Sintavia officials, and house more than $25 million of advanced manufacturing equipment. It's a testament to Sintavia's unique position in the market, according to Hedges.
"To have all of the processes under one roof where we can audit them," Hedges concludes, "that sets us apart." 3DMP
See also: Sintavia LLC
Technologies: Applications