VW Partnership with Siemens, HP Yields Binder Jetting of Metal A-Pillar Parts
June 18, 2021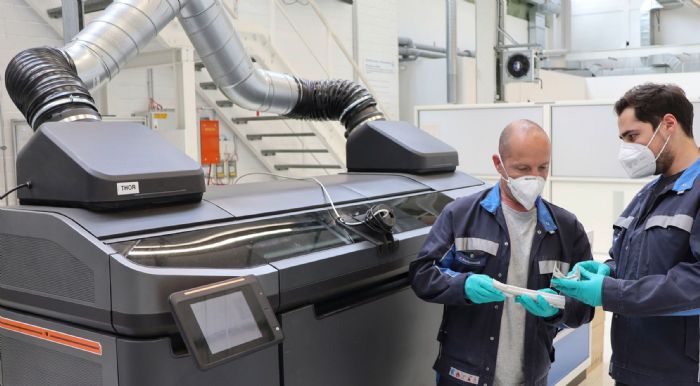 Reportedly the first instance of an automaker employing metal binder jetting to produce production parts, Volkswagen now is using the technology to produce T-Roc A-pillar parts at its main plant in Wolfsburg, Germany.
The breakthrough results from a five-year, multi-million-dollar investment by VW in metal binder jetting, including a collaboration with HP Inc. and its Metal Jet technology, and a software partnership with Siemens. The ultimate goal: making metallic binder-jetted parts viable for production-line use.
HP is providing its Metal Jet binder jet printers while Siemens provides additive manufacturing (AM) software. With this first full-scale use of metal binder jetting, VW and its partners intend to acquire experience and learn, for example, which components can be produced economically and quickly in the future, or how AM can support the digital transformation of production at VW. One key process step undertaken in joint work by Siemens and VW: optimizing the nesting of components in the build chamber, which enables production of twice as many parts per print session.
The binder-jetted A-pillar parts, weighing almost 50-percent less than conventional components made from sheet metal, have gone to VW's Osnabrück, Germany, facility for certification. This follows successful crash tests on 3D-printed metallic vehicle components by VW.
"Despite the ongoing challenges of the coronavirus pandemic, we're continuing to work on innovation," says Christian Vollmer, board member of the VW brand responsible for production and logistics. "Together with our partners, we aim to make 3D printing even more efficient in the years ahead and suitable for production-line use."