Designing for AM Yields Lower-Cost, Lighter-Weight Auto Door-Hinge Part
January 17, 2022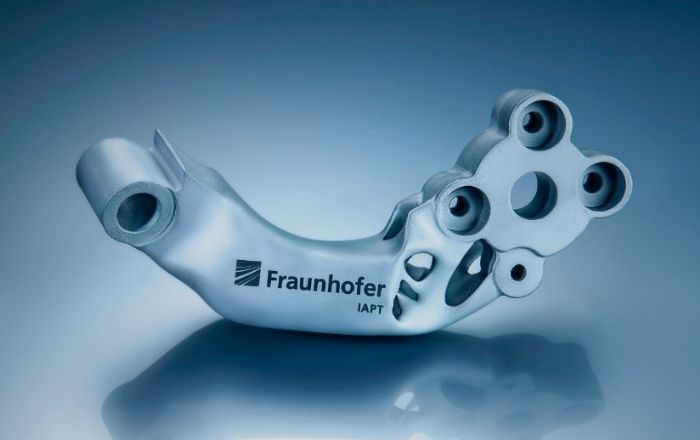 Specialists at Fraunhofer IAPT have employed additive manufacturing (AM) design methods to redesign a sports-car door-hinge arm, reportedly yielding a part at half the cost of the equivalent milled part, and boasting weight savings of 35 percent.
Aided by software from 3D Spark (a Fraunhofer IAPT spinoff), Fraunhofer engineers first identified a suitable component for redesign from the ground up with AM in mind. Early in the project, the specialists determined the cost-optimal AM orientation of the component, which enabled them to minimize the number of required support structures while maximizing the number of components that could fit on a build platform. This initial work reportedly realized 15-perent cost savings as compared to an AM process without such optimization.
Next, the project team optimized the hinge-arm structure to best take advantage of AM freedom of part geometry. Optimizing geometry reportedly reduced part weight by 35 percent. And, due to reduced material requirements and a shorter print time, costs compared to 3D printing without structural optimization dropped by another 20 percent, according to Fraunhofer IAPT officials.
Further, reducing the number of support structures in the design positively affected production time and material requirements, which, along with selection of optimal metal-powder material, led to additional cost reductions. More cost reductions resulted from adjustment of process parameters. For example, higher layer thickness during printing, optimization of process parameters and deformation of the laser beam profile significantly reduced build time.
In sum, designing for AM and following a "design to cost" approach throughout, according to company officials, allowed the hinge arm to be manufactured at a cost of 80-percent less than a 3D-printed part without the same optimizations.
Technologies: Applications