"GA-ASI's AM leader had a clear vision and a solid framework to get to production (including development of a metal-AM ecosystem), but needed some additional support to navigate the obstacles to come," explains Lauren Thompson, operations project manager for GE Additive AddWorks and part of the team working with GA-ASI, in a recent webinar. "With a desire to secure an early win, the GA-ASI team already had begun to identify a series of parts and part families with potentially favorable business cases, and started to build out an application pipeline."
Inlet the Ideal Pilot-Project Candidate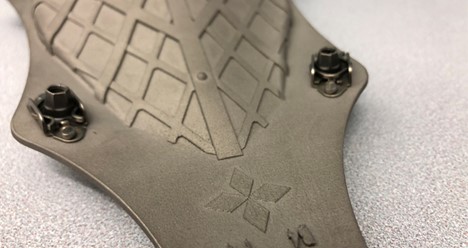 Take a look at a portion of the newly designed and producedair inlet, 3D printed as a single titanium piece rather than the original three parts, and delivering a cost reduction per part of more than 90 percent, weight reduction of more than 30 percent and tooling reduction of 85 percent.
During this process, the team identified the NACA inlet as a strong contender as the first metal 3D-printed part for the SkyGuardian MQ-9B program. GA-ASI already had been producing the NACA inlet from three formed and welded titanium-sheet-metal parts that made tooling, fabrication, labor and weld inspection particularly challenging.
This component became an AM candidate for three primary reasons, according to Thompson, who added input on the AddWorks team's analysis.
"Number one, it was very expensive to tool," she recalls. "So, what would tooling look like if the components were produced using additive? Secondly, it weighed a lot. Where's the bulk of the weight in that assembly? Why is the material there? Does it have to be? And thirdly, procuring all of the individual parts for the assembly was expensive. Why are there multiple parts? Does there need to be? Are there any challenges with procuring the parts? Are there other parts in this part family that could leverage learnings from this one?"
By continuously asking questions, offers Thompson, AddWorks was able to drill down into that particular part and begin helping GA-ASI to develop a design and manufacturing framework.
"General Atomics is an expert on the application and an expert at how its organization runs," she says. "We provided to its team the guided questioning to determine if this was indeed the best application to enter metal AM, given GA-ASI's needed business outcomes. We collaborated on design, material, validation, manufacturing optimization and more, and worked side-by-side with General Atomics to mature this application within LPBF technology and achieve a very aggressive timeline for flight testing."
The Concept Laser M2, with a 250 by 250 by 350-mm build volume, provided the capability to handle the thin walls required in this titanium application. Beyond thin-wall Ti printing, Thompson identified five hurdles to overcome during the eight-months development timeline:
Redesigning the three-part assembly into a single part, which required six design/analysis iterations.

Early-stage manufacturing trials, or rapid prototyping. "Think of how much faster a team can iterate on that design (as compared to traditional processes) when leveraging AM, where we can print this component within 48 hr.," Thompson says, "and receive very quick feedback into a design."

Manufacturing optimization, including reducing build time by optimizing support structures, orientation and more, all of which leverages a more cost-effective and supply-chain-effective application.

Material validation. The powder formulation had to meet manufacturing and performance requirements for the application.

Specification development, including development of specifications for the powder, process, part and more.
Payoff Leads to Future AM Work
Many project and process details cannot be shared, but the GA-ASI/AddWorks team cleared the hurdles to yield a printable design, with the M2 providing iterations and the final parts, leading to the successful test flight in February 2020. The single-part, lighter-weight NACA inlet, much more cost-effective to produce and without the need for expensive, long-lead-time tooling, now navigates the final-qualification phase of the SkyGuardian program.
Progress on this project has led GA-ASI to order multiple GE Additive Concept Laser M2 Series 5 machines, slated to be installed at the company's new Additive Design & Manufacturing Center of Excellence in Poway, CA, by year's end. The new machines, according to company officials, are expected to contribute greatly to internal printing capabilities and enable rapid-reaction product design and manufacturing.
And, work continues via the GA-ASI/GE Additive AddWorks collaboration, with best practices and knowledge from this particular project being applied to the wider NACA-inlet part family, Thompson reports.
"With the GE Additive AddWorks team, we were able not only to achieve our short-term objective of qualifying the NACA inlet, but we also worked together on a number of additional application-development and qualification efforts, which are continuing," Elie Yehezkel, senior vice president of Advanced Manufacturing Technologies for GA-ASI, explained earlier this year. "It is important that we remain at the leading edge of manufacturing technologies for our products and our customers. This acceleration has driven the maturation of our metal-AM strategy and has also informed how we plan to approach a much wider application space already in the pipeline." 3DMP
See also: GE Additive
Technologies: Applications, Powder-Bed Systems