Tech Update
Dual-Laser Setup Produces Large Aircraft Part Quickly
Friday, February 10, 2017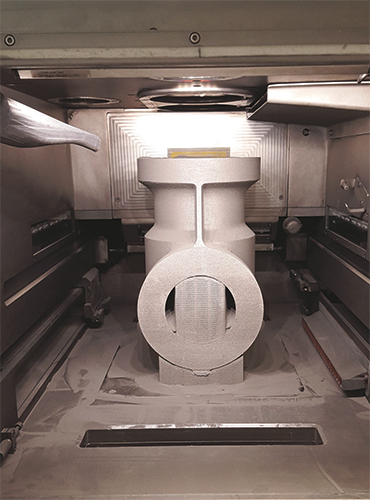 A large 3D-printed titanium part recently was produced in rapid fashion thanks to the use of dual 400-W lasers, proving the additive-manufacturing (AM) process as viable for manufacturing larger parts. That's the word from SLM Solutions, which announced completion of an aircraft component that measures 12.21 by 8.74 by 8.66 in.—the largest part to date built in an SLM280HL 3D printer with dual 400-W lasers. The dual-laser setup made it possible to build a part of this size in a relatively short time frame compared to conventional manufacturing. The standard build plate size for machines of this class is 250 by 250 mm. However, the SLM280, with its increased build plate size at 280 by 280 mm, makes larger-sized parts possible.
SLM Solutions, using selective laser melting (SLM) technology, has worked to overcome size limitations of the build chamber and the other challenges that come with building large titanium parts.
Says to Mike Hansen, applications engineer for SLM Solutions North America: "While the geometry in this part wasn't particularly complex, the shear mass of building something that large in titanium with the additive process was challenging."
The dual, overlapping laser technology developed and patented by SLM Solutions contributed to the success of this titanium part. Two lasers working simultaneously in the overlap area enabled not only a faster build but a larger part as well. SLM Solutions carried out tests on these overlap areas, showing that there is no difference in quality between the area built exclusively by one laser and the area in the overlap worked on by both lasers interchangeably. "This part is noteworthy because of its size and the fact that it was built out of titanium in 6.5 days with no process interruptions," says Hansen. "The fact that our machine can operate for that period of time without requiring cleaning or experiencing any interruptions, is in itself extremely significant."
Also significant: printing a part of this size in titanium in such a short time, something that could not have been achieved had the part been machined out of a billet.
"The part's size meant that it would have taken several weeks to machine conventionally, given that it would have required four or five setups, it would have been a costly process," says Richard Grylls, SLM Solutions' North America technical director. "Casting the part would have taken even longer given that the tooling would have to be built, which could take as long as six months. And traditional tooling is expensive. We were far faster even though the cost was more. Still, in terms of the total time saved the cost is worth it for a critical part of this size."
Importantly, the part exceeded quality and density requirements.
SLM Solutions: www.slm-solutions.com
See also: SLM Solutions NA, Inc.
---
Reader Comments
There are no comments posted at this time.