Article
AMUG Conference Set for Chicago in March
Friday, February 10, 2017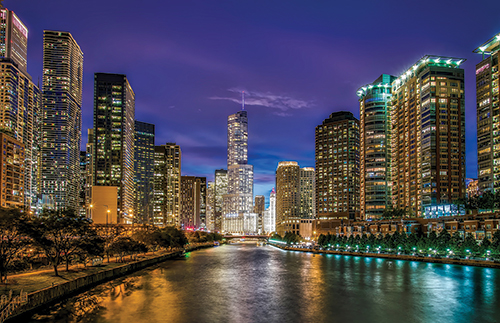 From March 19 to 23, the Hilton Chicago becomes home to the 2017 Additive Manufacturing Users Group (AMUG) Education and Training Conference. Now in its 29th year, the conference is open to owners and operators of all additive-manufacturing (AM) technologies. It provides in-depth discussions and training sessions—including workshops and certificate courses—in materials, both metals and plastics; applications; process fundamentals; finishing techniques; software; machine maintenance; scanning; and more.
The AMUG conference (of which 3D Metal Printing is a proud media sponsor) also features the following tracks:
WHAT: 2017 Additive Manufacturing Users Group (AMUG) Education and Training Conference

WHEN: March 19-23, 2017

WHERE: Hilton Chicago, Chicago, IL

ABOUT AMUG: The Additive Manufacturing Users Group dates to the early-1990s when the founding industry users group was called 3D Systems North American Stereolithography Users Group, solely focused on the advancement of stereolithography and comprised of owners and operators of 3D Systems equipment. Today, AMUG educates and supports users of all AM technologies worldwide. For additional conference details, visit www.am-ug.com.

Aerospace, Defense, Military and Transportation

Business

Casting

Education and Training

Materials

AM Technologies (Nonmetals)

AM Metal Technologies

Medical and Dental.
Top-Flight Keynotes
On top of all that, the conference assembles top-flight keynote speakers to inform and inspire attendees.
Todd Grimm, president of T. A. Grimm & Associates and AMUG's AM industry advisor, opens the conference on Monday, March 20. Grimm, who soon joins 3D Metal Printing in 2017 as a columnist, will highlight the changing AM landscape to shed light on where the industry is going and offer guidance on how attendees can get there. This will be Grimm's seventh appearance as an AMUG keynote speaker.
Jason Lopes, of Legacy Effects, returns for his fourth AMUG keynote appearance. He provides visual presentations of studio special effects that feature the use of AM. Spanning film, TV, Broadway and character appearances, Lopes' work pushes the limits of the technology to make physical effects a reality. In his presentation, he will share the tools he has used, the creativity employed and the results achieved.
On Tuesday, March 21, Stacey DelVecchio, AM product manager for Caterpillar, will discuss how Caterpillar's strategy to bring 3D printing from prototype solution to manufacturing method has evolved. Stacey also will share how Caterpillar is leveraging its innovative incubator to 'think big…start small…act fast.'
Wednesday, March 22, Carl Deckard, inventor of the selective-laser-sintering (SLS) process, will be the recipient of AMUG's esteemed Innovators Award. The Innovators Award is bestowed on those that have cultivated innovative ideas that in turn have advanced the additive manufacturing industry. Previous recipients include technology creators Chuck Hull and Scott Crump, founders of 3D Systems Corp. and Stratasys, Ltd., respectively.
Thursday will conclude with Dr. Peter Liacouras, director of services for the 3D Medical Center at the Walter Reed National Military Medical Center. Since 2006, Liacouras has applied AM techniques, such as vat photopolymerization, material jetting, binder jetting and powder bed fusion, to medical applications and implant designs. He routinely designs and creates custom implants, surgical guides and prosthetic attachments for the Department of Defense.
AMUGexpo and Technical Competition, Too
The first two days of the conference include the AMUGexpo, bringing together OEMs, vendors and suppliers servicing the AM industry. AMUGexpo hours:
Sunday, March 19, 5 p.m.-10 p.m.

Monday, March 20, 10:30 a.m.-12 p.m. and 6 p.m.-10 p.m.
Then, on Monday night, March 20, the AMUG Technical Competition will provide a forum for users of AM technologies to display unique applications as well as finishing capabilities.
The competition's Advanced Concepts category aims to recognize individuals and their companies for exemplary work. Entries in this category push the envelope for a particular technology or a combination of technologies, according to conference officials, and include unique applications, processes or utilization. The Advanced Finishing category recognizes the efforts of the parts finishers, model makers, painters and others that bring a prototype to life.
The AMUG Conference also features the Innovators Showcase, on-stage conversation with SLS-process inventor Deckard, who serves as chief technology officer for Structured Polymers.
"The AMUG Conference attracts a broad cross-section of expertise from across the additive-manufacturing space," says Steve Deak, AMUG president. "This results in an unmatched energy between members at the conference and unprecedented sharing of ideas that challenges the additive manufacturing industry to improve. I particularly enjoy the dialog between long-time members and the fresh ideas of our new members, which move the technologies forward." 3DMP
---
Reader Comments
There are no comments posted at this time.