Latest Video
Upcoming Events
Upcoming events for 3D Metal Printing Magazine!
Free E-Newsletters
Sent monthly to inform you of happenings within the 3D Metal Printing industry.
View a Sample
View Issues
Industry News
---
GE Additive Acquires GeonX
Wednesday, November 22, 2017
GE Additive, Cincinnati, announced today that it has acquired GeonX, Gosselies, Belgium, a developer of simulation software. Terms of the deal are not being disclosed. GeonX software simulates additive manufacturing, welding, machining and heat treatment processes in various industries such as aerospace, automotive and energy.Its Virfac® (short for Virtual Factory), assesses products prior to production; predicting defects, distortions and stresses, helping to reduce the number of prototypes built during the development phase, while improving the quality and lifetime of the manufactured products while reducing time to market and development costs.
For more, visit
www.ge.com/additive
and www.
geonx.com
.
---
Matsuura Machinery USA Names Ethen LUMEX Application Engineer
Tuesday, November 21, 2017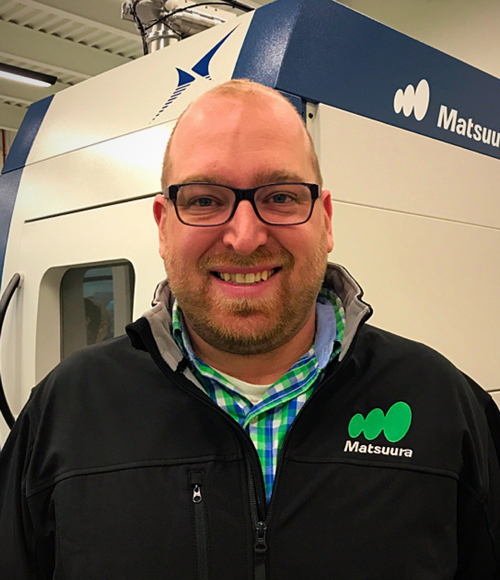 Matsuura Machinery USA, Inc. announced the selection of Patrick Ethen as the company's first Matsuura LUMEX Application Engineer. Ethen will train and support distributor engineers and Matsuura customers in the operation and troubleshooting of the Matsuura LUMEX Series product line for machine software, machining applications, cutting conditions and control functions. The series combines selective laser sintering along with high-speed milling, known as hybrid additive manufacturing.

For more, visit www.matsuurausa.com.


---
TRUMPF Announces Collaborative Agreement
With A3DM Technologies
Monday, November 20, 2017
TRUMPF Inc., Farmington, CT, manufacturer of in fabricating machinery and industrial lasers for flexible sheetmetal processing, and A3DM Technologies, Burlington, VT, provider of research a d development of refractory and precious metal powder for additive manufacturing, have entered a collaboration agreement to develop specialty metal powders and laser parameters. As part of the agreement, A3DM Technologies will have a TRUMPF TruPrint 1000 installed at its research facility in Burlington.
"The TruPrint 1000 platform will allow A3DM the flexibility to perfect a broad range of materials while providing a stable path for our future needs in larger AM production systems," says Steven Adler, chief executive officer of A3DM Technologies.
For more, visit www.trumpf.com and www.a3dm.com.
---
Ultimate 3D Selects ProMaker
Friday, November 17, 2017
Ultimate 3D, a 3D printing service bureau, specializing in selective laser sintering (SLS), announced that it has chosen the ProMaker P4000 X 3D printer from Prodways Technologies to be installed in their facility in Oregon. The system doesn't require proprietary materials, enabling Ultimate 3D to provide customers with parts made from different and robuts materials.
"The speed of the machine helps us stay on top of the quick turnaround of parts that our customers have come to expect," says Mike Larkin & Robin Oeffner, owners of Ultimate 3D. "We are glad there is an alternative in the mid-sized machines for the SLS world that does not require you to strictly buy proprietary materials, as we have varying requirements based on customer criteria."
For more, visit
www.prodways.com
.
---
Simufact and Materialise Introduce
Simulation for Metal AM Workflow
Thursday, November 16, 2017
Materialise NV, Leuven, Belgium, provider of additive manufacturing (AM) software and services, and Simufact Engineering GmbH, Hamburg, Germany, provider of metal AM process simulation software, have announced an OEM license agreement intended to allow Materialise Magics software users to control the pre-build process by applying Simufact simulation within their familiar data preparation environment. In addition, the support structures in the Simufact Additive software will be represented with Materialise Magics features.
For more visit,
simufact.com
and
materialise.com
.
---