Latest Video
Upcoming Events
Upcoming events for 3D Metal Printing Magazine!
Free E-Newsletters
Sent monthly to inform you of happenings within the 3D Metal Printing industry.
View a Sample
View Issues
---
Harlow Orders Gefertec Arc605
Tuesday, September 18, 2018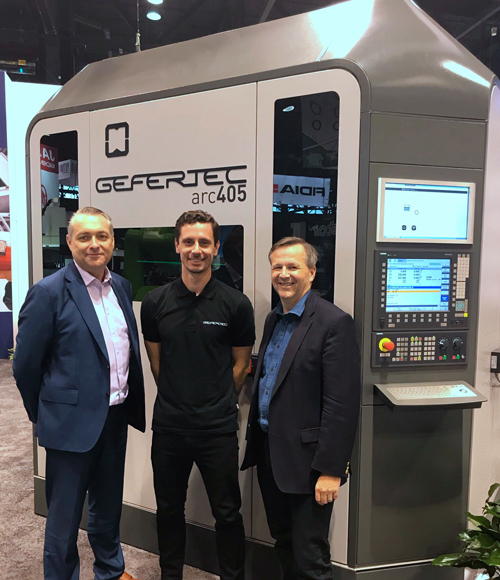 Shown left to right while at IMTS are Alan Pearce, CEO, Harlow Group Ltd.; Tobias Röhrich, CEO, Gefertec; David Gordon-Smith, CFO, Harlow Group Ltd.
United Kingdom-based Harlow Group Ltd., provider of sheetmetal fabrication services, announced during last week's IMTS show in Chicago that its United States subsidiary, FasTech LLC, will be home to a newly purchased
Arc605 machine from Germany-based Gefertech GmbH
, provider of 3D metal printers that combine the arc welding process with CAD, enabling additive manufacturing of metallic components. Optional three or five axes of motion provide maximum flexibility in terms of component volume while optional integration of a milling machine in the arc machines allows for immediate finishing of the workpiece.
.
The new additive manufacturing technology isfor fast and economical production of larger parts made of steel, nickel-based alloys, titanium or aluminium.
---
Seminar Focuses on Getting Started
Monday, September 17, 2018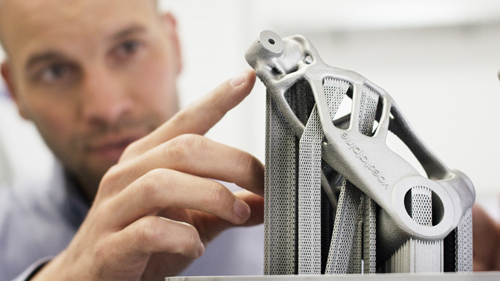 The
Getting Started with Additive Manufacturing seminar
on September 26, in Pomona, CA, provides direct access to Austria-based Voestalpine's latest technologies. Sessions topics include:
• Should you be thinking about AM?
• The power of simulation/modelling for AM applications
• Choosing your AM partner
• The advantage of AM powders developed for tooling
---
Renishaw Aids Human-Powered Land-Speed Record Attempt
Friday, September 14, 2018
Renishaw plc
, the Gloucestershire, United Kingdom-based engineering technologies company, announced its provision of additive manufacturing (AM) expertise to the
University of Liverpool Velocipede Team
for its Arion 4 project, which aims to be among the fastest human-powered bikes in the world.
For its part, Renishaw made available AM machines and expertise to the ULV team, which designed and additively manufactured the CTS, a vital component of the bike to support the team's attempt to break the current hand cycle land speed record this month at the World Human Powered Speed Challenge at Battle Mountain, NV.
The 3D-printed component weighs about 21 oz. and maintains stiffness due to the mechanical properties of titanium. The component is considered the backbone of the Arion 4 transmission system, allowing riders to put in as much power as possible without worrying about the structural integrity of the front of the bike.
---
Sciaky to Provide Largest AM Machine to 3D-Printed Parts Bureau
Thursday, September 13, 2018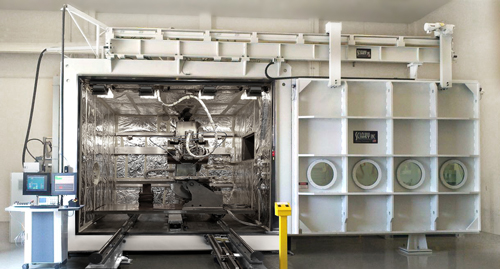 Sciaky, Inc., a Chicago-based subsidiary of Phillips Service Industries, Inc. and provider of additive-manufacturing (AM) solutions, will provide an Electronic Beam Additive Manufacturing (EBAM) system to FamAero, a privately owned metal 3D-printed parts bureau in Fenton, MI.

FAMAero, an abbreviation for Future Additive Manufacturing in Aerospace, will leverage the technology to provide fast, affordable large-scale 3D printed parts and prototypes for customers in aerospace, defense, oil and gas, and sea-exploration industries. The custom EBAM system ordered by FAMAero, believed to be the world's largest production metal 3D printer, with a nominal part envelope of 146-in. wide by 62-in. deep x 62-in. high, enables to FAMAero to produce metal parts over 12 ft. in length (roughly 3.7 meters).



---
HP Launches Advanced 3DTechnology
Wednesday, September 12, 2018
At this week's 2018 International Manufacturing Technology Show (IMTS) in Chicago, HP Inc. launched HP Metal Jet, an advanced 3D printing technology for high-volume manufacturing of production-grade metal parts employing binder-jetting technology.
HP is partnering with GKN Powder Metallurgy to deploy HP Metal Jet in their factories to produce functional metal parts for auto and industrial leaders, including Volkswagen and Wilo, a provider of pumps for the building and industrial sectors. To serve the medical industry, HP also is partnering with Parmatech, a metal injection molding company.
---