Latest Video
Upcoming Events
Upcoming events for 3D Metal Printing Magazine!
Free E-Newsletters
Sent monthly to inform you of happenings within the 3D Metal Printing industry.
Subscribe
View a Sample
View Issues
---
Oerlikon to Open AM Facility in NC
Tuesday, February 14, 2017
Charlotte, NC, soon will be home to Oerlikon's first U.S> additive-manufacturing facility, housing research-and-development and production teams in a $62-million manufacturing hub. The company expects to create 93 new jobs during the next 5 yr.
---
Siemens Full-Load Tests Printed Gas-Turbine Blades
Tuesday, February 14, 2017
Additive-manufactured gas-turbine blades withstood full-engine-condition testing—13,000 RPM at temperatures beyond 1250 C—by Siemens, the company's first such tests designed to validate blade designs boasting a new and improved internal-cooling geometry manufactured using AM technology. Material Solutions, Worcester, UK, manufactured the blades from polycrystalline-nickel superalloy, which were then installed on a Siemens 13-MW industrial gas turbine. Says Willi Meixner, CEO of the Siemens Power and Gas Division: "This exciting technology (can reduce) the lead time for prototype development by up to 90 percent….and also provide spare parts on demand."
---
Linear AMS Introduces Interactive Quoting Service
Tuesday, February 14, 2017
Rapid Quote is a new service that allows customers of Linear AMS, a 3D metal-printing service bureau, to upload 3D CAD models, explore design iterations and build cost models. Users can adjust their models as much as necessary, with the support of automated and accurate cost quotes for each iteration. The service identifies problem areas immediately, and offers corrective suggestions. Among the benefits: real-time quotes with improved part features and tolerances, and optimized design for manufacturability; www.linearams.com.
---
Sintavia Boosts its Aerospace, Defense Capabilities
Friday, February 10, 2017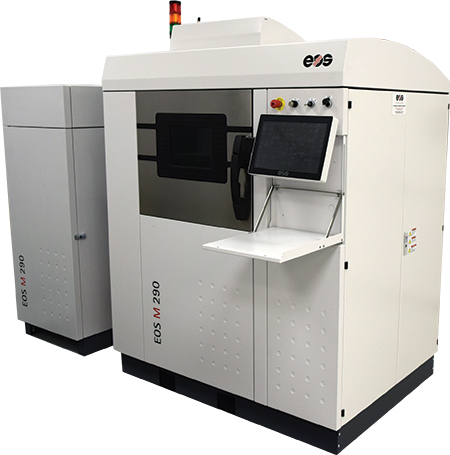 Sintavia, LLC, a provider of 3D metal-printing services to the aerospace, defense and other industries, has acquired an EOS M 290 machine for industrial metal-part production. With a build volume of 250 by 250 by 325 mm, the machine features enhanced quality monitoring and evaluation, and the ability to print with light, stainless and super-alloy metals. Included are the EOS standardized part-property profiles and its ParameterEditor, enabling Sintavia to modify parameters to meet unique customer requirements. A graphical interface and wizard guidance supports the machine operator, making machine use intuitive and task-based. The machine is Sintavia's sixth 3D printer.

See also:
Sintavia, LLC
---
Concept Laser Contributes to the Largest AM Research Center in the U.S. Southwest
Friday, February 10, 2017
The Polytechnic School at Arizona State University (ASU) has partnered with Concept Laser, Honeywell Aerospace and Phoenix Analysis & Design Technologies to launch what is being called the largest additive-manufacturing (AM) research facility in the southwestern United States. The 15,000-sq.-ft. center, opened recently on the ASU Polytechnic campus, is home to more than $2 million worth of plastic, polymer and 3D metal-printing equipment, including Concept Laser MC cusing and Mlab machines.
See also:
Concept Laser Inc
---