Latest Video
Upcoming Events
Upcoming events for 3D Metal Printing Magazine!
Free E-Newsletters
Sent monthly to inform you of happenings within the 3D Metal Printing industry.
View a Sample
View Issues
Industry News
---
America Makes and Robert C. Byrd Institute to Unveil Apprenticeship Framework
Thursday, February 22, 2018
America Makes has announced its collaboration with the Robert C. Byrd Institute (RCBI) to host a free, one-day public forum Tuesday, March 6, 2018, on the Apprenticeship Works program to promote the expansion of advanced manufacturing apprenticeships and unveil the first-ever, industry-vetted Additive Manufacturing (AM)/3D Printing Technician Registered Apprenticeship framework. The new framework leverages knowledge gained from the America Makes Workforce and Education Roadmap and empowers employers nationwide to develop and customize AM/3DP apprenticeships to create a highly skilled workforce.

RCBI, a founding member of America Makes, leads Apprenticeship Works—the National Advanced Manufacturing Apprenticeship Program, which is an American Apprenticeship Initiative supported by the U.S. Department of Labor (DOL). Through Apprenticeship Works, RCBI works with partners across the United States to expand apprenticeship opportunities in advanced manufacturing, making them more accessible and affordable for employers.

"For more than five years, America Makes, as the national accelerator for additive manufacturing, has worked to accelerate the adoption of additive technologies and to develop a skilled workforce to serve this growing and innovative industry," says Vicki Thompson, America Makes Workforce & Education Lead. "We are proud of the AM Technician Registered Apprenticeship framework and our collaboration with RCBI, as it also served as a great opportunity to build on an already positive, long-standing relationship."

The Apprenticeship Works forum will be held on the campus of America Makes member, Youngstown State University. While the forum is free, registration is required.
For more, www.americamakes.us/events/forum-expanding-apprenticeships-apprenticeship-works/.


---
Audi Commits to AM Technology from SLM Solutions
Wednesday, February 21, 2018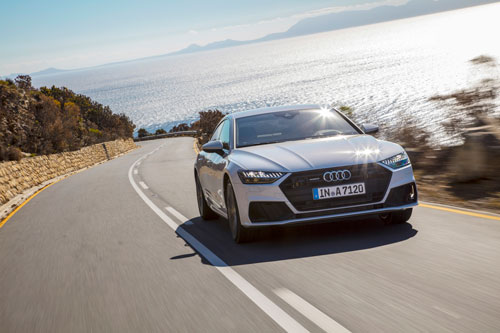 Audi AG has announced that it is producing prototype parts and components on demand using SLM Solutions' SLM 280 selective laser melting system. The machines create metal parts passed on 3D CAD data, including a water adapter for the Audi W12 engine.
"Manufacturing on demand is a vision for us to ensure an economical and sustainable supply of original spare parts, which are required less often," says Dr. Alexander Schmid, after sales manager at Audi AG. "Regional printing centers would simplify logistics and warehousing."
"Components for prototypes and spare parts are better suited for SL processes, thanks to the benefits of free geometric design," says Harald Eibisch, who works in Audi's technology development department. "Also, the load capacity of components is comparable to parts made using traditional method
For more,
www.slm-solutions.us/
.
---
Oerlikon and Boeing to Create Standard Processes for 3D-Printed Aerospace Parts
Tuesday, February 20, 2018
Boeing, the Chicago-based aerospace company, and Oerlikon, a technology and engineering group with headquarters in Pfäffikon, Schwyz, Switzerland, announced the signing of a five-year collaboration agreement to develop standard materials and processes for 3D metal printing.
"This agreement is an important step toward fully unlocking the value of powder-bed-titanium additive manufacturing for the aerospace industry," says Leo Christodoulou, Boeing's chief technologist. "Boeing and Oerlikon will work together to standardize additive manufacturing operations from powder management to finished product and thus enable the development of a wide range of safe, reliable and cost-effective structural titanium aerospace components." Boeing currently has more than 50,000 3D-printed parts on commercial, space and defense products.
"This program will drive the faster adoption of additive manufacturing in the rapidly growing aerospace, space and defense markets," says Dr. Roland Fischer, CEO of the Oerlikon Group. "Working together with Boeing will define the path in producing airworthy additive manufacturing components for serial manufacturing. We see collaboration as a key enabler to unlocking the value that additive manufacturing can bring to aircraft platforms and look forward to partnering with Boeing."
Boeing and Oerlikon will use the data from this collaboration to support the qualification of additive manufacturing suppliers to produce metallic components using a variety of machines and materials. The research will initially focus on industrializing titanium powder bed fusion additive manufacturing and ensuring parts made with this process meet the flight requirements of the Federal Aviation Administration and Department of Defense.
For more,
www.oerlikon.com/a
m and
www.boeing.com
.
---
Stratasys and Team USA Go for Gold
Friday, February 16, 2018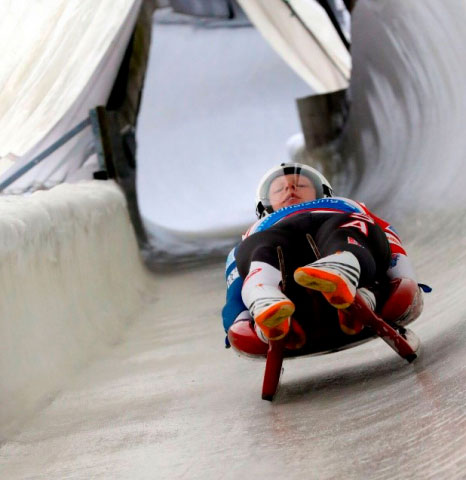 Team USA - Luge worked with the Composite Solutions Group at Stratasys to gear up for the Winter Games (Photo: Business Wire)
Stratasys, Eden Prairie, MN, provider of additive technology solutions, has teamed with Team USA - Luge to inject additive manufacturing into its quest for gold in Pyeongchang, South Korea. The carbon-fiber composite sleds, made using fused deposition modeling technology, enabled a level of complex customization that would not have been possible with standard composite fabrication, according to Stratasys.
For example, 3D-printed mandrels for the racing team's Doubles Tower—a composite structure at the sled's front, used to accurately position riders' legs during competition—are tailored to the body of each athlete, thus ensuring proper fit and position during racing, a critical factor when racing sleds that travel at speeds to 87 mph.
"Competitive luge racing is an extremely demanding sport where fractions of a second are the difference between winning and losing. Our riders depend on comfortable, aerodynamic sled designs to win races," says Jon Owen, technical programs manager for USA Luge. "In teaming with Stratasys, we've become much more competitive on the world stage, continuously adjusting designs and running them on the track much faster than traditional processes. Additionally, we've balanced both comfort and performance by tailoring the sled to each rider's body, while minimizing fabrication cost and time."
Based on the success of Doubles Tower construction, USA Luge has pushed the technology even further by 3D printing the entire sled-body layup tool. This design incorporates a removable middle section, allowing tool length to adjust based on each rider's height. Driven by these efforts during prototyping, designers are using this same tooling for final sled components during competition.
For more,
www.stratasys.com
.
---
Global Advanced Metals Adds Advanced AM Equipment
Thursday, February 15, 2018
Global Advanced Metals (GAM) Pty. Ltd., the fully integrated tantalum supplier with facilities in Australia, Japan and the United States, has announced the addition of Teksphero plasma spheroidization equipment from Tekna at its process-development facility in Boyertown, PA facility. The equipment, used in the manufacturing of spherical tantalum and other refractory metal powders for advanced additive manufacturing and metal injection molding, produces spherical powders from a variety of tantalum feed materials. Particle sizes range from 10 to 100 µm in narrow or broad particle size distributions. Standard oxygen content is in the range of 600 to 1000 ppm, but low oxygen (< 250 ppm) powders are an option.

"We're able to create spherical tantalum powders that can be used for 3D printing of prototypes and commercial parts," says Andrew O'Donovan, chief executive officer of Global Advanced Metals. "The ability to rapidly prototype and produce complex tantalum parts via additive manufacturing offers designers new materials choices for applications in military, aerospace, medical and other demanding industries."

GAM has developed relationships with experts in the field of laser and e-beam 3D printing to create prototype and commercial parts, leading to the successful printing of tantalum parts with unique physical properties and complex geometries.

For more, www.globaladvancedmetals.com.

---